As the keynote speaker for Duke's annual Martin Luther King Jr. commemoration, political strategist Donna Brazile told a packed crowd that she would be back to North Carolina in the coming months. 
"Because I'm getting President Obama the nomination," she said to loud applause at Duke Chapel Sunday afternoon, where more than a thousand members of the Duke and Durham community gathered for the university's annual MLK service. 
Besides taking a few digs at Republican candidates Ron Paul and Newt Gingrich, Brazile did not engage in the political fireworks that have made her a popular commentator on CNN and ABC News. Instead she focused her remarks on voter registration and extending King's legacy of service to others, which was in keeping with the theme of this year's Duke commemoration, "Act to Honor."
President Richard Brodhead introduced Brazile, noting that the university is preparing to honor the 50th anniversary of admitting its first African-American students. Today, he said, the university is "enriched and enlivened by the very talent the university once tried to exclude."
"If great challenges call for great courage, then let's have the courage to face the challenges of today," Brodhead said. 
Also speaking at the event was Dr. Victor Dzau, chancellor of health affairs and CEO of Duke University Hospital, who listed several health challenges facing residents of Durham County, among them obesity, diabetes and mental health issues. And Durham Mayor Bill Bell noted the city is still rebounding from the economic recession and many are still without jobs.
Brazile spoke of other challenges. Her latest campaign is to combat voter disenfranchisement and make sure "the most important right of all of our rights, the right to vote, is not taken away from ordinary people ever again."
She said the voter ID laws passed, or close to passing, in many states are the largest push to set back voting rights in 100 years and that these laws amount to "legislative racism."
"Dr. King would have demanded all Americans be given the ballot," she said.
Brazile said King would be pleased by the racial progress made in government with the election of a biracial president; with three women, two African Americans and a Latina joining the US Supreme Court; and with an African-American serving as attorney general. 
Yet King, she said, would be disappointed by the amount of poverty, unemployment and homelessness that still exists. "He would not want a celebration yet," Brazile said, calling on the audience to complete King's unfinished work. 
She said she was too young to march when King was assassinated, but that her grandmother instilled in her the belief that she could make a difference at a young age. At age 9, Brazile worked to get a playground built in her New Orleans neighborhood.
Later, she was one of many community activists who campaigned with King's widow, Coretta Scott King, to make his birthday a national holiday.
"King was not popular in his time," she said. "He was criticized by his own people. They wanted him to turn it down, to not talk about war. But he didn't get his calling from the New York Times or the Washington Post. He got his calling from on high."
Following the program, dozens of Duke students held a silent protest on the Chapel quad in response to an unpublished study by two Duke faculty members and a graduate student that said black Duke students are disproportionally more likely to switch from majors such as the natural sciences, engineering and economics to ones in the humanities and social sciences.
The week of activities dedicated to honoring King's legacy began Friday night with a film screening of "Brother Outsider: The Life of Bayard Rustin" at Smith Warehouse. Most stayed after the film to engage in a Q&A with the film's director, Sam Pollard. Pollard also held a master class the following day at the Center for Documentary Studies. 
On Monday, volunteers from Duke, North Carolina Central University and Durham Rotary Club converged on Duke's Freeman Center to package meals for the Million Meals project. Later volunteers were invited to have refreshments and view a social justice exhibit that featured archival photographs of Duke student protests over the years. Inspired by the photographs, Duke students re-enacted a 1968 sit-in on the Chapel Quad. 
The week-long program continues Wednesday evening with a lecture by journalist Michele Norris, co-host of National Public Radio's "All Things Considered." For more information, visit mlk.duke.edu.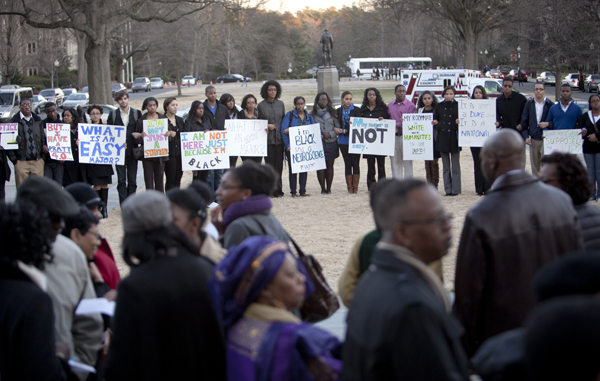 Pictures from MLK Commemoration this week: Above, after Duke's MLK commemoration Sunday, students held a silent protest in response to an unpublished study that said black Duke students are disproportionally more likely to switch from the natural sciences, engineering and economics to ones in the humanities and social sciences. Below, President Richard H. Brodhead addresses students at a re-enactment of the 1968 student sit-in of the Allen Building in the aftermath of the assassination of Martin Luther King Jr.  Photos by Megan Morr.