Duke Camp (And Dog) Help Children Cope With Loss
Registration now open for children and volunteers for May camp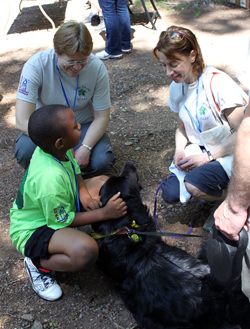 The children are magnetically drawn to Murphy. They wrap their arms around him. They wrestle with him. They peer into his hazel eyes and share woes.
Read More
It doesn't matter that Murphy doesn't respond with words. 
The 105-pound dog with shaggy black fur and malformed front paw is a silent, stable source of love and support in a world turned upside down by loss.
Murphy and his owner Jennifer Strauss, a clinical psychologist at Duke, are volunteers at Camp ReLEAF, a one-night bereavement camp run by Duke HomeCare & Hospice. When camp opens May 19, Strauss and her husband, orthopaedic surgeon T. Craig Derian, will be on hand for the 5th year with Murphy to nurture 40 to 50 children.
"We strongly believe in community service, and when we saw how lovingly Murphy responds to kids, this seemed like a great opportunity to donate our time together," said Strauss, an assistant professor in Duke's Department of Psychiatry and Behavioral Sciences. 
Camp ReLEAF is staffed with a combination of community volunteers and staff from Duke HomeCare and Hospice. The camp is open to Triangle-area, kindergarten through eighth-grade children who've lost a parent, sibling or other significant person in their lives within the past two years. 
"Children often try to protect their parents and families from pain by not talking about their own loss," said William Holloman, director of bereavement services for Duke HomeCare and Hospice. "Camp is an opportunity for them to talk openly with peers who have experienced similar losses."
The deadline for registering a child for this year's camp is May 5. Volunteers must register by Feb. 15 and complete training with Duke HomeCare and Hospice before the beginning of camp.
In addition to games and marshmallow roasting, campers participate in activities that offer a chance to explore feelings and understand that grief is natural and normal. The children express emotions through drumming and other musical instruments. They create storybooks to tell their tales. They make necklaces or bracelets with special beads representing themselves and loved ones. 
"What's important about all these activities is that the kids can share with each other while they work together," Holloman said. 
And for those children who may not want to talk with a peer, there's always Murphy and other therapy dogs.
"I've seen kids sit in a circle and talk to Murphy as a way of talking to the group," said Strauss, who rescued Murphy from an animal shelter and trained him as a therapy dog. Murphy is one of several therapy dogs who regularly attend camp.
Strauss and her husband block off time well in advance each year to take Murphy to Camp ReLEAF.
"This opportunity is so special," she said. "Murphy clearly enjoys being with the kids, and it pulls at my heart when I see a group of them sprawled on the grass with their heads on Murphy's side, watching the balloons they have released with messages of remembrance flying up into the sky."