Orchestrating Discounts At The North Carolina Symphony
Duke discount introduces employee's son to cultural delights
Alex Bettger, who turns 4 in February, picked up the violin and slid a bow across the strings. His face lit up with a smile. 
 His mother, Janet Prvu Bettger, thinks Alex will also enjoy his first-ever children's matinee series at the North Carolina Symphony.
Read More
"Alex has never been to an orchestral concert, so we can now use his experience as a reference point as we prepare him for the matinee in January," said Bettger, an assistant professor of nursing at Duke. 
Bettger purchased the North Carolina Symphony matinee tickets after receiving an email from PERQS, Duke's employee discount program. The email advertised discounts of up to 30 percent. Knowing how much she and her husband enjoy music, she immediately sent the email to her husband and suggested they explore taking Alex to at least one concert.
Within minutes, her husband called. "Did you see that they have special matinees for kids?" he asked. "Let's go to those." 
With the Duke discount, the children's matinee tickets were $14 per ticket, instead of $20. The Bettgers will see "Green Eggs and Ham" in January and "Bug Songs" in March. "They sound like really interesting concerts," Bettger said. 
Other discounted performances at the North Carolina Symphony include "New Year's in Vienna" with soprano Sari Gruber on Dec. 31. Tickets are regularly $48, or $33 with the Duke employee discount.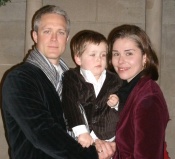 Alex Bettger, 3, with his parents. Mark and Janet Prvu Bettger. Photo courtesy of the Bettger family.
For the Bettger family, the PERQS discount has been a valuable resource since moving to Durham in 2009.
"We've lived in Toronto, Boston and Philadelphia, and we wondered what cultural attractions there would be in Durham," she said. "Having those PERQS emails show up in the mailbox has been a fabulous way of letting us know what our entertainment options are." 
The family has used the discount for Disney On Ice, Carolina RailHawks Soccer, Carolina Hurricanes and the Durham Bulls, all hits with Alex. 
And prices continue to be a hit with Bettger. 
"We used to pay $32 just to park for a concert in Boston," she said. "Here, we can get symphony tickets for three of us for about the same price."