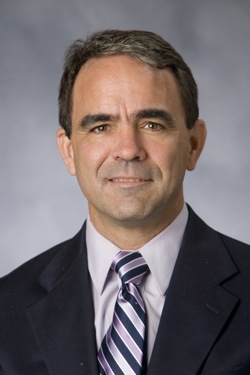 With the Kyoto Protocol on greenhouse gas emissions set to expire in a year, political leaders, scientists and policymakers from more than 190 nations are gathering this week and next in Durban, South Africa, to negotiate issues related to climate change. Reporting on the United Nations Framework Convention on Climate Change, an Associated Press story said, "The U.S., Europe and the developing countries laid out diverging positions at the outset, signaling tough talks ahead."
Among the conference attendees will be Duke's Brian Murray, director for economic analysis at the Nicholas Institute for Environmental Policy Solutions. At this 17th Conference of the Parties (COP17), he aims to share research by the institute on the science, economics and policy implications of carbon gas interaction with oceans, forests and agricultural activities.
Before leaving for the conference, Murray will participate in an online "Office Hours" interview at noon Thursday, Dec. 1, to answer viewer questions on the state of international climate change policies. Watch the live webcast on the Duke University Ustream channel. To ask Murray a question -- before or during the broadcast -- send an email to live@duke.edu, tweet with the tag #dukelive or post to the Duke University Facebook page.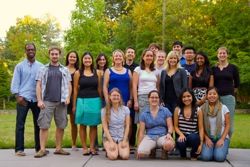 This Nicholas School class is attending the COP17 climate conference in Durban, South Africa.
Joining Murray via Skype from the conference in Durban will be Jeff Gustafson, a graduate student in the Nicholas School course "U.N. Climate Change Negotiations Practicum." The 17-member class is attending the conference, along with their professor Elizabeth Shapiro, and keeping a blog.
Follow Murray's updates from COP17 on the National Journal's Energy & Environment Expert blog.
Duke's weekly "Office Hours" webcast series aims to bring the insights of Duke faculty members to anyone with an Internet connection and an interest in ideas. Find a schedule of upcoming broadcasts, as well as archives of previous conversations, on the Office Hours website.