To make a film showcasing the landscape of his North Carolina upbringing, Josh Gibson turned not to beaches or mountains or towering Longleaf pines.
Instead, he turned to the ubiquitous Kudzu.
The Duke University filmmaker felt the fast-growing, omnipresent vine would resonate with folks so accustomed to seeing the green covering paralleling the south's highways and railways. 
And even with all manner of high-tech, digital wizardry at his disposal, Gibson made the film the old-fashioned way -- with 35-millimeter film he developed himself in a darkroom he built in his basement.
The result is "Kudzu Vine," a 20-minute black-and-white documentary that debuted earlier this year at the Full Frame Documentary Film Festival in Durham. This weekend, it will be shown at the New York Film Festival and is slated for screenings at several other festivals in coming months.
For Gibson, 38, the documentary is his latest attempt to trumpet the virtues of film in movie-making. While the movie industry relied on film -- 35MM and otherwise -- for about a century, it is quickly being phased out in favor of digital technology.
But for purists, actual film gives a movie its essence. And while Gibson doesn't proclaim himself a film zealot, he has a healthy appreciation for the medium. He is part of a movement within Duke's Arts of the Moving Image program to emphasize the virtues of 35MM, essentially putting the 'film' back into 'filmmaking.'
"The first 100 years of cinema was pretty much all 35-millimeter," Gibson says. "But the movie-going experience has changed. People are seeing movies on their TVs and computer screens and iPhones."
In eBay He Trusts 
The basement of Gibson's Durham home is small, dark and dank and smells faintly of chemicals. In short: It's a darkroom. Once a photographer's headquarters, the darkroom has largely disappeared with the takeover of digital photo and video technology. 
Most moviemakers who still use film ship it off to a lab for developing; while costlier, it's easier and far less labor-intensive.
But where's the fun in that?
For Gibson, the fun is in the touch, the painstaking film processing, the analysis of each frame, the snipping and slicing, the clicking of the film reader as it whips images across the screen. So he blacked out the window and uses just one red light bulb to illuminate his work.
"Film is a mystical, magical process," he explains. "You don't instantly see what you get. You're dealing with a very abstract thing." 
To make sense of the abstract, Gibson relies on eBay, the online auction site that has become his go-to place for affordable photo equipment. He has found a series of Russian cameras and lenses that allow him to shoot widescreen images, as well as an old angiogram reader that hospitals once used to view moving photos of a patient's heart. He uses this angiogram device as a projector; it's smaller and more portable than a projector built specifically for film, he says.
Teaching Respect for the Image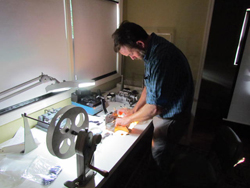 Josh Gibson splices film in his workshop.  Photo by Eric Ferreri.

At Duke this year, Gibson and other film instructors hope to emphasize the importance of 35MM film in part by screening a series of films they believe best illustrate the format's strengths. The next will be an Oct. 19 screening of the French film "Outside the Law."
"We want to offer the opportunity to experience great 35MM films the way they were meant to be seen," said Stanley Abe, director of the Arts of the Moving Image program. "It is a special visual experience which is available in precious few theaters and is largely unknown to young people."
In the classroom, instructors will talk up film as well. One point Gibson hopes to impart to his students: shooting with film makes you a more discerning artist. When you shoot with a digital camera, your capacity is unlimited and the cost is minimal. With film, every image shot has a price, and film can be expensive. Shooting with film forces you to be more critical in your decision-making, he argues.
"It teaches a healthy respect for the image, rather than just picking up a camera and shooting everything," Gibson says. "And it's expensive. Dollars and cents tick away as the motor whirs. You need more rigor."
Gibson, a Davidson native and Duke graduate, shot his Kudzu documentary largely in North Carolina, from Rockingham to the Triangle. In Rutherfordton, he interviewed farmers who live in and among the vine and sell it for use as livestock food. He even grew the plant in his basement, using time-lapse photography to show the vine in action. 
"There is something frightening about Kudzu," Gibson says. "It grows a foot a day or more, and almost swallows things up."
Gibson liked the idea of portraying Kudzu in the documentary as an alien invader of sorts. Duke music professor Anthony Kelley pitched in with a musical score that drew inspiration from "Dark Shadows," a vampire soap opera from the late 1960s that Kelley watched growing up.
The result: a short, black-and-white documentary with the feel of a sci-fi flick from a bygone era.
Pictured below: Josh Gibson uses an old hospital angiogram reader to project images from his Kudzu Vine documentary onto a screen at his home workshop.  Photo by Eric Ferreri.