Where At Duke Is The Blue Devil?
Flat Blue Devil visits Wallace Wade Stadium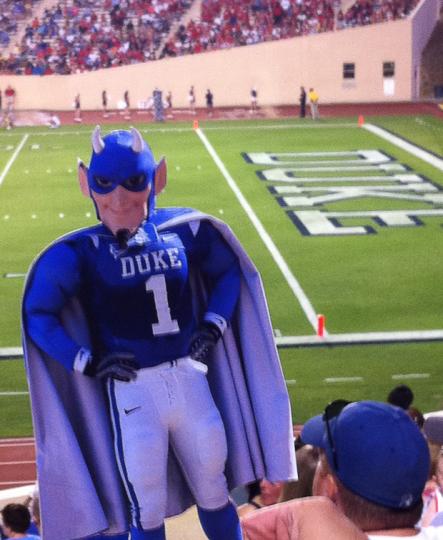 Flat Blue Devil joined fans at Wallace Wade Stadium to cheer on his favorite team against the University of Richmond during the Employee Kick-Off event held Sept. 3. Check out a slideshow from the home opener and employee celebration at the Working@Duke YouTube page.
About the "Flat Blue Devil"
The "Flat Blue Devil" makes appearances to showcase locations, resources, services and events of interest to the Duke community. You may also find Flat Blue Devil making stops at a global destination, or other places that hold importance to the community or history of Duke.
Part of the fun is faculty and staff can take Flat Blue Devil on an adventure - he can go anywhere, as long as there's a strong Duke connection.
Let us know where you'd like to take Flat Blue Devil, and we'll send him your way. Then please send him back to us or pass him to friends and co-workers who can show off more of Flat Blue Devil's journey.