Image Of The Week: Boiler Delivery
A 14-feet tall boiler was delivered to the West Campus Steam Plant as part of ongoing renovations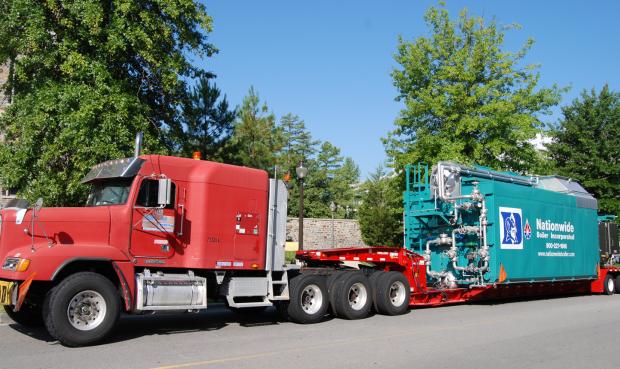 This 14-feet tall, 31-ton boiler was delivered Wednesday, Aug. 31, to Duke as part of continued renovations to the West Campus Steam Plant on Coal Pile Drive.
The boiler is a temporary replacement for the plant, which is being retrofitted for natural gas after Duke ended its use of coal on April 14. This boiler will be used until April or May 2012 as the West Campus Steam Plant acts as a "base plant" to provide steam along with the East Campus Steam Plant, said Floyd Williams, project manager for Facilities Management.
Three permanent boilers will be installed between Sept. 23 and the end of January 2012. 
Renovations to the West Campus steam plant are anticipated to be completed by October 2012. In addition to replacing coal-burning boilers, Facilities has planned electrical and fire protection upgrades throughout the facility. All existing coal handling equipment will be removed, exposing the original brick structure, which will be restored. The project also includes a major refurbishment of the structure and interior finishes. A portion of the area surrounding the plant will be used to accommodate oil loading station utilities, improved landscaping and plant service parking.
Photo by Bryan Roth