Navigating The Home Buying Process
Duke Credit Union seminar provides tips for first-time homebuyers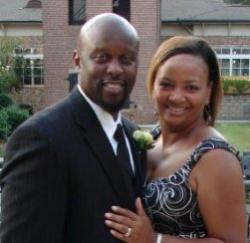 After Dora and Gary Lanier made their wedding vows last July, they made one more promise to each other: to consider buying a house after a year.
Read More
"Now that we're getting ready to celebrate our anniversary next month, we decided it was time to get serious about what it would take," said Dora Lanier, a supervisor for clinic services in the Neurosciences Clinic at Duke.
Lanier turned to the Duke Credit Union website for information and found an advertisement for a homebuying seminar. She called her husband. "Sign us up," he told her. "Let's get going,"
The homebuying seminar, just one in a series of financial help seminars hosted by the credit union and open to Duke faculty and staff and their family members, delved into determining home affordability, lending options and other upfront costs often required when closing a deal.
"Buying a house is a complex decision," said financial counselor Scottie Dowdy, who led the seminar. "It's important to understand ahead of time what you are getting into."
Although the sluggish economy has slowed home sales, spring and early summer is still a busy time for homebuyers. In April, the last month for which data is available, there were over 59,800 house showings in Durham County, and sales had increased 12 percent over March, according to the Triangle Multiple Listing Service.
Dowdy offered the following tips to help navigate the home buying process:
Consider how much you can afford. "If you are renting now and just barely covering your costs, you don't want a mortgage that costs even more per month," Dowdy said.
Clean up your credit score. "A bad credit score can mean higher interest rates on mortgages, and you can be paying that for 30 years," she said.
Find out how much you can borrow. A lender's loan pre-qualification provides an estimate of how much you can borrow based on your income, savings and debt.
Shop around for a mortgage. Different lenders offer different terms, interest rates and fees. "There are lots of mortgage products out there," Dowdy said. "It pays to shop around."
Know what is included in a monthly mortgage payment. "A lot of people don't realize taxes and insurance are rolled into the monthly payment along with principal and interest," Dowdy said. "That means if your taxes or insurance goes up, your monthly payment rises."
Find a realtor you like. Realtors not only help you find a house, but work with you through the negotiations with the seller. It is important to understand whether they are representing you or the seller, and who pays their commission.
Put aside some earnest money. Many sellers require prospective buyers to put down several hundred dollars or more while negotiations are proceeding. The money is credited toward the sale once it is final. "You want to be sure you want the house before you put down the earnest money, because if you walk away from the negotiations, you'll walk away from that money," Dowdy said.
Know what additional money is needed to close the deal. Most home purchases will require closing costs and pre-payment of some insurance and taxes. Other expenses due at closing may be fees for an appraiser, attorney and other banking services.
Dora and Gary Lanier left the seminar with new knowledge and reading material. "I had no idea you needed earnest money," Dora said. "And I had no idea you could shop around for lenders," Gary said. "I always thought you just had to settle for the first answer you got."