Less than a year after seven Duke centers received federal support
to help Duke students and local teachers learn about other parts of the world, those
same centers are facing potentially devastating budget cuts.
Depending on how the U.S. Department of Education interprets a federal
funding bill in the coming weeks, international studies initiatives funded by
Title VI of the Higher Education Act at universities nationwide could lose
nearly half of their funding. 
The bill, which funds the federal budget through September, leaves specific
cuts to the discretion of the department. Officials there are considering cuts
of 40 percent, or $50 million, to Title VI programs and must decide on next
steps by May 15.
"I was appalled at how the department is proposing to slash programs
that are so important to our national security," said Gilbert Merkx,
director of Duke's Center for International and Area Studies, a Title VI-funded
center.
"If we eliminate these programs, we eliminate our capacity to generate
expertise on a majority of countries in the world, in particular, countries in
out of the way places," he added.
Duke currently receives more than $3 million in Title VI awards to seven centers,
totaling more than $12 million over the four years of the current funding
cycle.
If the 40 percent reduction in funding occurs, Duke may lose nearly $4
million over the remaining grant cycle, forcing it to curtail staff,
programming and graduate fellowships.
"These centers enrich Duke because we offer languages we couldn't
otherwise offer, have speakers and conferences on parts of the world like the
Middle East and Southeast Asia, and provide the kind of intellectual,
interdisciplinary activities that make it possible for students to study these
parts of the world," Merkx says, noting that Duke is now one of the top
two private universities with the most foreign area centers funded by Title VI
grants.
Natalie Hartman, associate director of Duke's Title VI-funded Center for Latin American and Caribbean
Studies, says budget cuts may affect the center's ability to offer
instruction in less commonly taught languages students otherwise would not have
the opportunity to study, such as Yucatec Maya, Haitian Creole and Brazilian
Portuguese.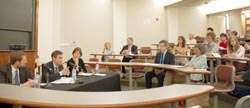 At the 2009 Anthony Joseph Drexel Biddle Jr. Lecture, three young Duke alumni talked about how international studies at Duke guided their career. Congress is looking at extensive cutbacks for Title VI funds, which fund significant initiatives in international studies at Duke.
"In addition, a major portion of our Title VI funding supports K-16
teacher training, including community colleges, and other outreach such as
teacher workshops, teacher study tours, development of curriculum resources, a
film lending library and a Latin American film festival," she says. "We
are providing training and resources to low-performing schools in Durham and in
other counties around North Carolina. For most of these activities our
Title VI grant is the main source of funding and without it we would not be
able to carry out these activities." 
Edna Andrews, professor and director of Duke's Center for Slavic, Eurasian and East
European Studies, says cuts in funding for Title VI centers like hers would
deeply compromise the efforts of Duke and other universities to teach their
students about the world.
"These grants have made Duke University a better place, and they have
provided not only funding for students to study less commonly taught languages,
but they have funded new and innovative course work beyond languages in a
variety of social sciences and humanities," she says.
Officials at Duke are communicating with legislators and federal
administrators including officials at the White House, U.S. Secretary of
Education Arne Duncan and members of the North Carolina congressional delegation,
asking them to preserve as much funding as possible for the centers, said Christopher Simmons,
Duke's associate vice president for federal relations.
"We are actively reaching out to our contacts in Washington, D.C., with
a request to carefully consider the implications of these cuts and to ask for
support in mitigating what could potentially be disastrous for international
education across the country," said Simmons.
"It is short-sighted and dangerous to cut funding for Title VI
programs, which build national expertise in international and area studies and
train students in critically important foreign languages," Duke
President Richard H. Brodhead wrote in a letter to Secretary Duncan.
"International education has taken decades to build, and if programs
such as those supported by Title VI are not safeguarded, it could be difficult
to reconstruct," Brodhead wrote.
In addition to highlighting the threat posed by next month's proposed budget
cuts, Duke officials are also focusing on future budgets and have requested
that Congress support a return to full funding of the programs at the 2010
level of $126 million.
Merkx says this isn't the first time Title VI programs have been threatened
by legislative budget action, and he is hopeful officials will recognize the
importance of maintaining funding for international education.
"[The programs] have been attacked before and survived because people recognized
that we have to understand languages and gain understanding about the rest of
the world," he says. "We have to develop a certain level of
scholarship to teach the language, culture and history of a place. Through this
program the U.S. has been able to do that."