The love of words connected author Reynolds Price to many
great American writers: Eudora Welty, Anne Tyler, John Updike and Toni Morrison,
to name a few.
A generous and gracious spirit, sly wit and devotion to
friendship connected him to everyone else.
These were the sentiments expressed Thursday afternoon at "A
Long and Happy Life: A Celebration for Reynolds Price," held at Duke Chapel.
The author and longtime Duke English professor passed away earlier this year at
age 77.
"Many would regard his conversation as
being his greatest masterpiece," said Duke University President Richard
Brodhead. "He was Duke's embodiment of a man of letters."
 Brodhead quoted Ralph Waldo Emerson to
illustrate Price's philosophy of teaching: "The whole secret of the teacher's
force lies in the conviction that men are convertible."
 With this philosophy, Price "woke up
generations of Duke students," Brodhead said.
Reynolds Price Poetry
Duke English Professor Melissa Malouf read three poems by Price during the ceremony:
 Former Duke President Nannerl O. Keohane said Price "made
you feel as if your conversation was the most important thing, even within a
large group of people."
He once told her, "I'm in regular touch with every person
I've loved." Koehane spoke of his courage in the face of pain, his deeply Southern
roots, his love of dancing ("at first sedately, then with abandon") and his
humor. 
Former Price assistant Daniel Voll, a
writer and producer, also spoke of Price's love of humor and culture -- both
high and low brow.
"A bobblehead of the rapper Eminem
fought for space on his kitchen counter," he said, adding that Price was
obsessed with eBay and once boasted of a "lock of Abraham Lincoln's hair" he
had purchased.
Price had a total of 29 assistants over
the years, many of them Duke alumni. Voll acknowledged the former assistants in
attendance, having them stand for a round of applause.  They'd helped carry Price, who was confined
to a wheelchair after radiation treatment cost him the use of his legs.
"They are not a basketball team, but
they carried a championship to this university every day," Voll said. Even
after decades of paraplegia, Price was "the happiest person I knew," he said.
"There's an old axiom at Duke, 'If you
want to be a writer, go find Reynolds Price,'" said Voll, who began "a
conversation that lasted for three decades."
"He was gracious enough to let us
believe we had something in common," he said.
Author and former student Josephine Humphreys agreed.
"I never had more than three or four actual conversations
with him as an undergrad," said Humphreys, who grew to become a close friend of
Price. She later felt like he was her confidante, and she had become a member
of his innermost circle.
"A real star or outlaw has that power," Humphreys said,
comparing Price to Elvis Presley. "Each one thinks 'he's singing for me.'"
Another former student, actress Annabeth Gish, T'93,
reenacted a scene from "August Snow," a play Price wrote about the Avery family
in a small North Carolina town. Melissa Malouf, an associate English professor
at Duke, read a selection of Price's poems, while neighbor Jeffrey Anderson
spoke to Price's self-description as an "outlaw Christian."
Following the ceremony, a reception was held in Von der Heyden Pavilion where Southern food such as cucumber sandwiches, cheese sticks and pickled okra was served. An exhibit showcasing photos, letters and clippings from his life was shown in the Rare Book Room.
Those who were unable to attend the service, watched the
proceedings online on Duke's UStream channel.
To see video highlights of the event, click on the video tab of this story.  Several participants, including Gish, joined the DukeNews Twitter conversation.
To see a program and learn more about the Chapel
celebration, visit today.duke.edu/showcase/reynoldsprice.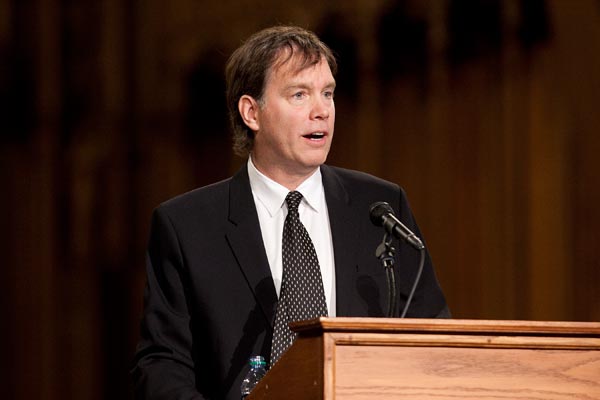 Daniel Voll, a friend of Reynolds Price, remembers the long, successful life of the author and scholar.  Photo by Les Todd.