Pauli Murray House Ceremony Launches Renovation Effort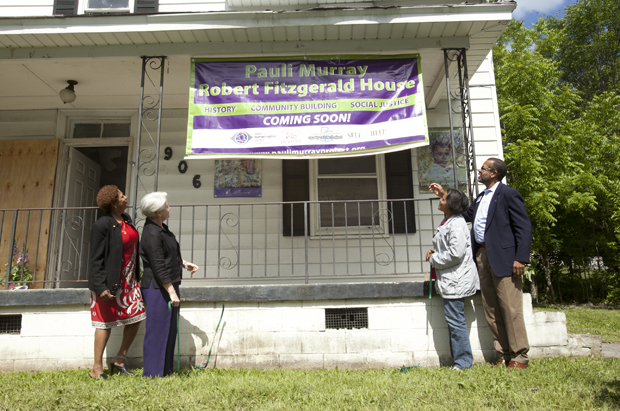 At a ceremony Monday, a local coalition officially announced plans by a consortium including Duke's Pauli Murray Project to purchase and renovate the Durham childhood home of the famed activist. 
The house was built by Murray's grandfather Robert Fitzgerald, a black man and Civil War veteran who moved to Durham following the war to teach African-Americans.  The house will be called the Pauli Murray-Robert Fitzgerald House. (For more on the house, click here.)
Murray had a long list of activist "firsts" to her credit.  She was the first woman to
graduate at the top of her class from Howard Law School. She advised First Lady
Eleanor Roosevelt on civil rights and she co-founded the National Organization for Women. Before her death in
1985, Murray was the first African-American woman to be ordained as an
Episcopal priest and offered communion for the first time at the Chapel of the
Cross in Chapel Hill.
The coalition leading the project includes Duke's Pauli Murray Project, the Southwest Central Durham
Quality of Life Project, a six neighborhood community-based advocacy group; and
Self-Help with support from Preservation Durham and the College of Design at NC
State University. At Monday's ceremony, Durham officials, Murray family members and coalition leaders discussed plans for the house, located at 906 Carroll St.
Photos by Megan Morr.  Above, officially announcing the project is, from left, Charmaine McKissick-Melton, Barbara Lau, Mayme Webb-Bledsoe and Lew Myers. Below, visitors get a look at the house interior during Monday's ceremony.