Where At Duke Is The Blue Devil?
Flat Blue Devil visits the Nasher Museum of Art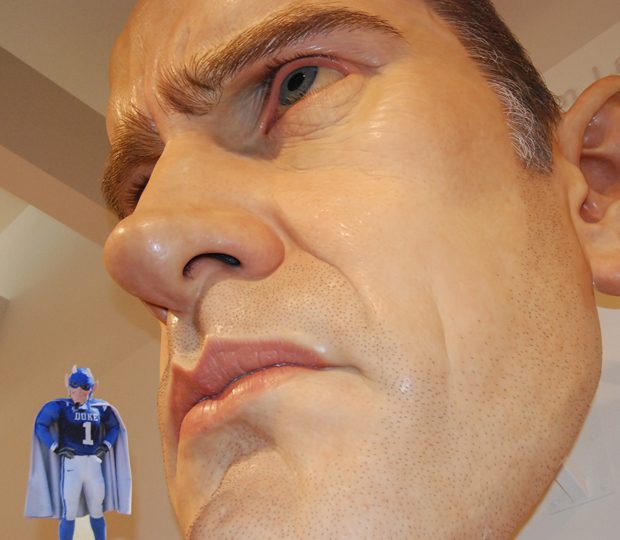 The Flat Blue Devil is soaking up some culture at the Nasher Museum of Art, where he's checking out the hanging exhibit "Mask (Self-Portrait)" by Ron Mueck. The giant face is comprised of polyester resin and is courtesy of Mr. and Mrs. J. Tomilson Hill.Duke faculty and staff can join the Flat Blue Devil at the Nasher with a reduced dual/family membership to the museum for $40, a $20 savings. Membership includes two membership cards for free admission for two adults plus all children 18 and under to the Nasher Museum, a subscription to the museum's calendar and postcard mailings, a 10 percent discount in the museum store and cafe and more.
About the "Flat Blue Devil"
The "Flat Blue Devil" makes appearances to showcase locations,
resources, services and events of interest to the Duke community. You
may also find Flat Blue Devil making stops at a global destination, or
other places that hold importance to the community or history of Duke.
Part of the fun is faculty and staff can take Flat Blue Devil on an
adventure - he can go anywhere, as long as there's a strong Duke
connection.
Let us know where you'd like to take Flat Blue Devil, and we'll send him
your way. Then please send him back to us or pass him to friends and co-workers who can show
off more of Flat Blue Devil's journey.