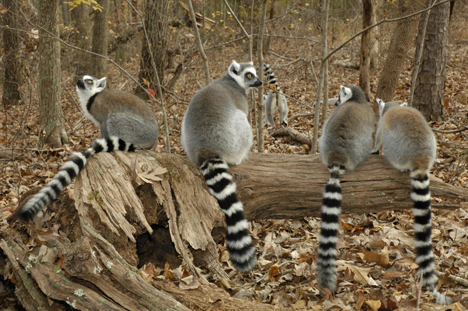 For more than 40 years, the Duke Lemur Center has been an international leader in research, conservation and care of lemurs and other endangered species of prosimians. The center's facilities, which were renovated in early 2010, provide safe, comfortable housing for the animals, as well as allowing visitors year-round access.
Now the Lemur Center has introduced new Behind-the-Scene Tours to give visitors an closer look at lemurs. Keith Morris, the center's education manager, says the tours offer unprecedented views of these rare and fascinating creatures.
"For the first time, guests can see species of lemurs that typically have not been seen by the public," Morris said. "In the past, the viewing has been quite limited, particularly during the winter months. The Behind the Scene Tours will allow guests to come inside where it's nice and warm and see the animals up close."
The hour-long tours are limited to a maximum of six guests, from age 10 through adult, and reservations are required. Call (919) 489-3364 ext. 0 for reservations. No special gear is needed, and cameras are welcome.
"We don't have any flash photography on the grounds, for the safety of the animals," said Morris. "But we do encourage picture-taking."
"The greatest appeal of the new tours is the proximity to the animals," he said. "It's a chance to see them in a way that traditionally only our staff has seen them."
For more information on the Duke Lemur Center's new Behind the Scene Tours, as well as its other educational tours, visit www.lemur.duke.edu. You'll also find photos, video and other background materials about lemur care, training and research.