Duke Chapel Christmas Eve Services, TV Broadcast
Christmas Eve service available live at 11 p.m. on News 14 Carolina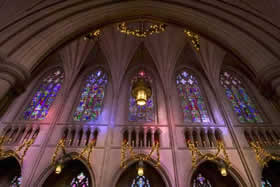 Duke Chapel will hold three Christmas Eve worship services, with a live statewide broadcast of the final one.
The first service on Dec. 24 begins at 3 p.m. and is suited for families with young children. At 5:30 p.m. is a Service of Carols and Holy Communion. The traditional Service of Lessons and Carols begins with a prelude at 10:30 p.m.
All the events are free and open to the public. Attendees of the last service should plan to arrive at least 30 minutes in advance, as it often fills up.
"Midnight on Christmas Eve is perhaps the most special moment of the whole year," said Sam Wells, dean of Duke Chapel. "In a stable in Jerusalem, God reassembled man and woman, kings and working people, earthly animals and heavenly angels, around the fragile, newborn Son of God.
"At Duke Chapel, in imitation of this blessed reunion, we gather university and townspeople, young and old, people whose faith is vibrant and those whose faith is tender, to hear the story, listen to the music of the angels, and sing God's praise this wondrous night."
Those not attending can watch the final service live, in most parts of the state, on Time Warner Cable channels 14, 114 or 1114, beginning at 11 p.m.
"News 14 Carolina is thrilled to partner with Duke Chapel and share this wonderful holiday tradition with our customers across North Carolina," says Alan Mason, vice president and general manager of News 14 Carolina. "I'm especially glad to provide this coverage for people who cannot attend a service in their community due to illness."
All three services also will be webcast on the chapel website and the Duke University Ustream channel.
In addition to the Christmas Eve services, the chapel hosts its annual open house, Duke Chapel by Candlelight, from noon to 2 p.m. Tuesday, Dec. 21. The event features music from organs and the carillon, as well as Christmas decor including poinsettias, garlands, wreaths and a creche. All are welcome.