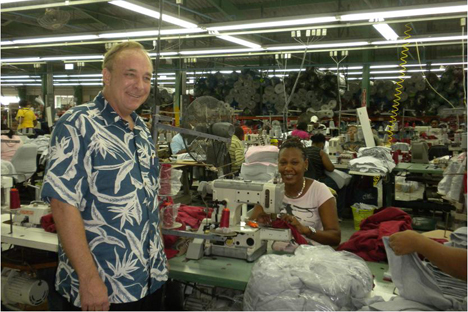 For more than 100 factory workers in the Dominican Republic, all it took was one person to make a life-changing difference.
For the past 13 years, Jim Wilkerson, Duke's director of trademark licensing and Duke Stores, has been a national leader in lobbying for improved factory conditions around the globe, helping to establish labor standards and organizations to defend the rights of workers who make clothes - particularly items bearing the logos of Duke and other universities.
This summer, his efforts led to a breakthrough, when the first apparel factory in a developing nation to pay a living wage opened to employ 120 employees. The factory is in Altagracia, about a 40-minute drive from the Dominican Republic's capital of Santo Domingo.
"I've never seen more motivated, productive and appreciative group of workers in my life," said Wilkerson, who traveled to the factory in September. "Workers continually talked about the hope, promise and improvement in life that their job affords them now. They kept saying how they never thought anything like this was possible."
To open the groundbreaking factory that pays each worker a living wage, American apparel company Knights Apparel worked closely with the Worker Rights Consortium, an independent labor rights monitoring organization of which Duke is a member. Wilkerson has served on the consortium's board of directors for the last seven years and spearheaded a number of labor rights initiatives since 1997. Among the initiatives was drafting the nation's first comprehensive code of conduct for university apparel and representing Duke as the first university member of President Bill Clinton's Apparel Industry Partnership.
Wilkerson's code of conduct was the basis for the decision to create a fair-wage factory. He also was involved in discussions with the Workers Rights Consortium and Knights Apparel as they partnered to open the factory.
The factory, which carries its name from the Dominican town where it was built, is owned by Knights Apparel, which is based in Spartanburg, S.C. Workers at the factory - spelled Alta Gracia - earn about $500 dollars a month, which is more than three times what the average Dominican factory worker makes.
"In the past, companies have never had great incentive to go beyond the minimum in terms of workplace pay or safety," said sociologist Gary Gereffi, a professor in the Sociology Department and director of Duke's Center on Globalization, Governance & Competitiveness. "While it may not happen right away, the hope here is that opening a factory with higher standards will have a spill-over effect onto other factories as consumers seek out more ethical clothing options."
In addition to Wilkerson's work, Duke has done its part to support the factory, selling 17 different Alta Gracia T-shirts and sweatshirts online and in Duke Stores. Duke is the largest bookstore customer of Alta Gracia items and sold about more than $130,000 worth of Alta Gracia merchandise the first month it was offered at Duke.
The success of the apparel at Duke and other retailers around the country is felt back in the Dominican Republic, where Wilkerson met with factory employees who were able to save enough money to send their children to better schools and even build their own homes.
"This is an extraordinary achievement that will have tremendous impact on the quality of life for adults and children," Wilkerson said. "It was amazing to see first-hand the impact that Duke can have on people's lives around the world."