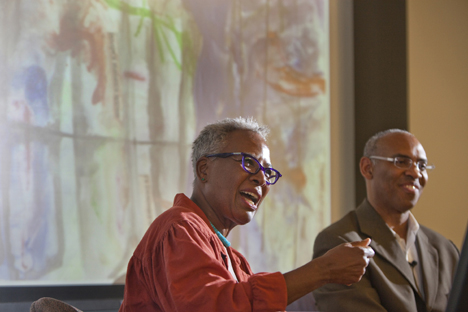 Throughout her prolific career as a historian, Nell Painter came back time and time again to images as a way of deciphering and telling stories. It's only natural, therefore, that now she finds herself drawn to art and painting as a profession.
What she didn't realize, however, is the path from one to the other wouldn't be clean, neat or easy. But it has given her an opportunity to better explore the connection between images, words and history.
Painter talked about both her research and her painting with Duke art historian Richard Powell Tuesday at the Franklin Center before an audience of about 50 people. Saying it was a thrill to discuss art with Powell, who previously advised her both on questions of history and art, Painter said her interest deepened while researching a book about Sojourner Truth.
"Sojourner didn't read or write, so the usual archival materials that a historian uses weren't available," Painter said. "All I got through the traditional tools of history were filtered through other people."
But she did have images - paintings of portraits that Truth sat for and showed her in a way that contradicted some of the main facets of her history that others told about her. One portrait in particular showed the activist as quiet, dignified and domestic.
"The portrait shows how she wanted to be remembered, an impression of her that was swept under the rug by history," Painter said. "The image collides with a history that portrays her as radical and 'in your face.' The question is how do you bring the two together."
Painter discussed the prestige of words versus images; how audiences are prone to believe words need interpretation while images represent truth and things as they are. But, she added, artists are also allowed to exhibit greater passion. Painter said in her histories she often used images to portray an emotion that she, as a scholar, felt she could not use in her writing.
When she decided to take her painting seriously, she enrolled in undergraduate and graduate courses. Now she is on track to earn an MFA from the Rhode Island School of Design. Powell said he thought Painter's name was appropriate. She responded with laughter that the name came from a first husband, but she liked it enough to keep it.
Asked why she decided to take classes, she said, "I wanted to be the kind of artist that I was as a historian. I didn't want to be a dilettante. I needed the skills."
She showed several slides of her work, which often weave African-American figures together with influences from a range of sources. One painting reimagines the classical sculpture known as Apollo Belvedere. Another is a series of representations of Michael Jackson in various stages of his life, with Harriet Tubman in the background.
History isn't far removed from some of her paintings. While some recent works are decidedly abstract, in others, Painter weaves words and text into the painting. A Matisse-inspired painting of young white girls against the map of the nations of the Caucasus Mountains, are related to her most recent book, "A History of White People."
Prompted by Powell, Painter moved from art for a moment to talk about the response to that book, which discussed how the definition of white people changed over history.
"I started thinking about it 10 years ago. When I first started talking about the book, one reaction was, 'Well, are you going to write it as a black person?' And that would get me on my high horse and I responded, 'I'm writing it as a historian,' which was equally pretentious.
"Then when people asked me that, I started responding, 'I'm writing it as a white man.' That didn't help either," she said to laughs.
"But the amazing thing, the thing that changed, was people stopped asking the question. When they read the book, the response was overwhelmingly positive."
For Painter, who has donated her papers to the John Hope Franklin Collection in Duke University Libraries, writing history is an effort to challenge single interpretations of how things happened and to show how historical meanings change over time.
Using art has been helpful to her as a historian in showing how meanings change, Painter added. But stylistically, the two worlds haven't been easily crossed.
"As a writer, I try to write in a clean way, conveying complicated thoughts but in a manner that the public, someone without a Ph.D., can understand. But as an artist, verisimilitude is not what I'm after. It's not been an easy transition. Working at RISD has beat out of me some of what I thought as a historian has been my strengths."
Painter concluded by noting the rich flourishing of modern African-American women painters, quoting one who sought to paint "the unknown beauty of my people."