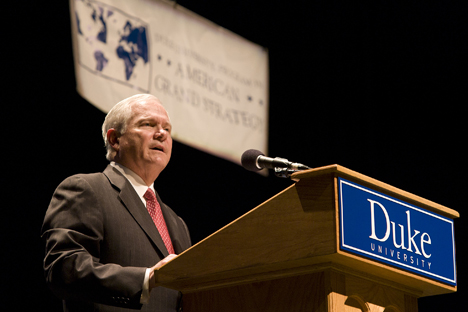 More of the nation's leading universities should join Duke in providing officers and others to serve in the military, U.S. Defense Secretary Robert Gates told a packed Page Auditorium Wednesday evening.
"If America's best and brightest people will not step forward, who then will step forward?" Gates asked, calling on students in the audience and at other leading schools to "go outside your comfort zone and take a risk, in every sense of the word." Talented young people who serve in the military are "given extraordinary responsibility at a young age," Gates said, leading troops "at an age when their peers are reading spreadsheets and making photo copies."
Gates said the military is drawing on a "tiny sliver of America" rather than on the broad population. Military recruitment is increasingly concentrated in the South and the Rocky Mountain West, as well as in rural areas and among military families, he said, arguing that "for most Americans, the wars remain an abstraction."
The situation has evolved since the country moved to an all-volunteer army in the wake of the Vietnam War, Gates said. Returning to an earlier tradition of compulsory service is "politically impossible" and impractical in an era when warfare requires extensive training and experience. Yet the resulting "void of relationships and understanding" between the military and many citizens poses a risk, he argued.
Gates commended Duke for maintaining ROTC programs and other connections with the military, in contrast with many Ivy League and other elite universities. He cited three current or former Duke students who have made important contributions through their military service: Jonathan Kuniholm, a graduate student who lost an arm in Iraq and is now developing prosthetic devices; Eric Greitens, a former Navy Seal and Rhodes Scholar who founded The Missions Continues; and Emerson Gardner, a Marine Corps general who assisted Gates with budget planning and other military issues.
Gates also paid tribute to two other Duke graduates, Matthew Lynch and James Regan, who died in Iraq and were recently commemorated along with other Duke alumni on the memorial wall between Duke Chapel and the Divinity School.
In addition, the defense secretary praised a large group of ROTC students in attendance for embracing what he called the "ethos of service" and for helping to relieve the "extraordinary stress" facing current service members and their families. "We've had so few fighting our wars for so long," Gates said, noting the toll this has taken in terms of anxiety for military children, divorce and suicide. "How long can these brave and broad young shoulders bear the burden that we as a military, a government and a society continue to place on them?"
Gates was introduced by Duke President Richard H. Brodhead, who recalled their interactions as fellow academic leaders when Gates was still president of Texas A&M University before moving to the Pentagon. Noting how Gates once told him that being a university president was more demanding than his previous position as head of the CIA, Brodhead joked that Gates may have accepted the Defense position "in search of an easy life. If so, he quickly found himself wrong." He went on to praise Gates as "an absolute straight shooter" and "a person of amazing courage."
In turn, Gates opened his remarks by saying, "It's a relief to be back on a university campus and not have to worry about football."
Gates, who met earlier in the day with a Duke class and with ROTC students from Duke and three other local universities, delivered the Ambassador S. Davis Phillips Family International Lecture. Last year the annual series featured Fareed Zakaria of Newsweek International and CNN.
The event was organized by Duke political science professor Peter Feaver, a former special adviser for the National Security Council. It was sponsored by the American Grand Strategy Program, which Feaver directs, the Triangle Institute for Security Studies, Duke's Sanford School of Public Policy and its Office of Global Strategy and Programs, and the university's "A World Together" initiative.