Stories of School Desegregation
Pauli Murray event has public share personal experiences on controversial topic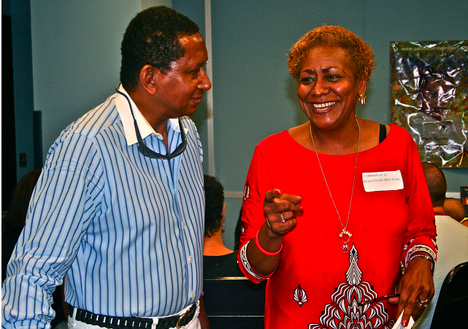 There was plenty of the usual passion at a community dialogue on school desegregation Sunday, but this time understanding and compassion were at the core of the discussion.
The Rev. Dwyian Davis, Charmaine McKissick-Melton, Janice Mack Guess and others shared stories from the days when blacks and whites in Durham first attended the same schools. Over 120 people took part in a dialogue and story-telling session at Durham County Library. The event was cosponsored by the library, the Somebody Had to Do It Project and the Pauli Murray Project, which is affiliated with Duke's Human Rights Center.
At a time when school desegregation is a major issue in many school districts, including Wake and Durham counties, there are few venues for people to share their personal stories and hear those of others. It's the kind of effort that Pauli Murray, a legal, religious and civil rights leader whose activism spanned many realms of American life, always promoted.
"Pauli Murray's spirit was absolutely in the room. The dialogue was an amazing experience and a great success in so many ways," said Barbara Lau, director of the Pauli Murray Project.
The speakers focused on the school year of 1959-1960, when Durham County schools were officially desegregated. Afterwards, the participants broke down into discussion table for the further sharing of stories and discussion.
Four Durham County School Board members were in attendance, as were two members of the Museum of Durham History board and State Senator Floyd McKissick Jr.
To read more about the event, click here for the Durham Herald-Sun article. Participants at the event are encouraged to place comments on the project's feedback blog
Virginia Williams, right, one of the Durham participants in the historic Royal Ice Cream sit-in, talks during a table discussion. With her is Durham Board of Education Member Natalie Beyer.