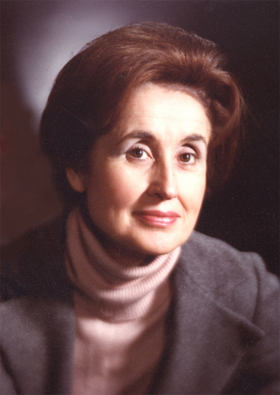 Former Duke economist and U.S. Secretary of Commerce Juanita Kreps passed away on July 5 in Durham after a lengthy illness. She was 89.
Born Blair Juanita Morris on January 11, 1921, in Lynch, Kentucky to the late Elmer and Cenia Blair Morris, she received a BA from Berea College (1942), and her MA (1944) and Ph.D. (1948) in economics from Duke University. After serving on the faculties at Denison University, Hofstra University and Queens College (NY) she joined the Department of Economics at Duke where she attained the rank of professor and was appointed James B. Duke Professor of Economics in 1972. At Duke, Kreps also served as dean of the Woman's College and assistant provost (1969-72) and was named vice president in 1973.
Kreps' publications include: Principles of Economics (with Charles Ferguson); Sex in the Marketplace: American Women at Work; Lifetime Allocation of Work and Income: Essays in the Economics of Aging; and Sex, Age, and Work: the Changing Composition of the Labor Force, as well as numerous articles in scholarly journals.
During the presidency of Jimmy Carter, Kreps served as U.S. Secretary of Commerce, the first woman and the first economist to hold this position. She was instrumental in directing the Commerce Department toward a more active role in the promotion of international trade, initiating an historic trade agreement between the United States and China in May 1979.
Kreps served on the Boards of Trustees of Berea College, the University of North Carolina at Wilmington, and The Duke Endowment, and chaired the Board of Trustees of Educational Testing Services. She was also a member of the Board of Directors of a number of corporations, including the New York Stock Exchange, J.C. Penney, Eastman Kodak, R J Reynolds Nabisco, Citicorp, United Airlines, AT&T, Armco, Zurn Industries, John Deere and Company, Chrysler Corporation, and TIAA-CREF.
Kreps was a recipient of the North Carolina Public Service Award and the Duke University Medal for Distinguished Meritorious Service. She was a Fellow of the American Academy of Arts and Sciences and a member of Phi Beta Kappa.
Kreps was preceded in death by her husband Dr. Clifton H. Kreps, Jr., Wachovia Professor of Banking at the University of North Carolina Chapel Hill, and by her daughter Sarah Blair Kreps. She is survived by her daughter Laura Anne Kreps and partner Phillip Martin of Durham; her son Dr. Clifton H. Kreps III and wife Patricia Cotter Kreps of Kirksville, Mo.; her son-in-law Kenneth Finnerud of Winston-Salem; and her grandchildren, Alexandra and Eric Finnerud and Quincy and Caroline Kreps.
Funeral services will be held at the Chapel of the Cross Episcopal Church, 304 E. Franklin St., Chapel Hill, at 2 p.m. Friday, July 9.
Memorial tributes may be sent to Planned Parenthood of North Carolina or to the Chapel of the Cross.