Author of 'The Immortal Life of Henrietta Lacks' To Speak at Duke March 24
The talk will be followed by a book signing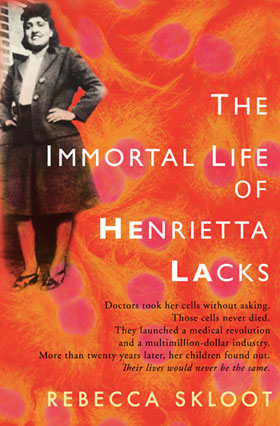 Science writer Rebecca Skloot will present the 2010 Crown Lecture in Ethics, "Henrietta Lacks and Current Issues in Medical Ethics," on Wednesday, March 24, at Duke University's Sanford School of Public Policy.
The free talk, to be held at 5:30 p.m. in the Fleishman Commons, is open to the public and will be followed by a book signing.
Skloot's book, "The Immortal Life of Henrietta Lacks," earned a place on The New York Times bestseller list soon after publication. Skloot has appeared on ABC World News, Fresh Air with Terry Gross, and The Colbert Report to talk about the book.
Lacks, a descendant of slaves, entered the "colored" wing of the Johns Hopkins Medical Center to be treated for cervical cancer in 1950. Without her knowledge, some of her cells were taken. Although Henrietta died eight months later, her cells did not. Those cells, known as HeLa, became one of the most important tools in medical research. Yet Henrietta's children struggle with poverty and lack of health care.
Skloot became fascinated with Henrietta Lacks in high school, and spent 10 years researching and writing her story. Skloot traveled from state-of-the-art research labs to the abandoned town of Clover, Va., where Henrietta had lived as a child.
For 25 years, Lacks' family knew nothing about Henrietta's legacy. HeLa cells launched a multimillion-dollar market in human biological material, but Henrietta's family never saw any of the profits. The family felt exploited by researchers asking for new samples from family members, by journalists writing about Henrietta and by a con artist who promised them riches.
In her dealings with the Lacks family, Skloot faced her own ethical issues. She wanted to tell Henrietta's story, not just about her cells, but about her life and the larger issues of race, poverty, informed consent, scientific history and the darker aspects of medical research.
The Crown Lecture in Ethics, named for benefactor Lester Crown, brings speakers to Duke to explore ethical issues in the arts, sciences, medicine, business and other fields.
For details, visit www.sanford.duke.edu.