Tracing Family Threads Toward Superstrings
The Holloway legacy expands to high energy physics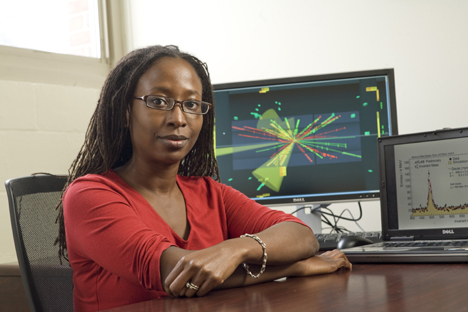 As the third family member to join Duke's faculty, Ayana Holloway Arce is building on a legacy rooted in literature, technology and a love of scholarship.
Her mother, Karla F.C. Holloway, is a James B. Duke Professor of English and Law with special interests in African American culture. Her father, Russell Holloway, is a computer scientist who is now the Pratt School of Engineering's Associate Dean for Corporate and Industrial Relations.
Starting this month as a new assistant professor of physics, Arce will be carrying the Holloway torch in new directions by exploring science's outer limits at the world most powerful proton accelerator and collider.
She will also teach an undergraduate course back on campus, while continuing a frequent flyer relationship with her husband, Javier Arce, a tropical biologist now based in Puerto Rico.
"My mom definitely shared with me her love for books and her passion for reading, which got me interested in school and an academic career," Arce said during an interview in her still-bare office. "But I guess I take a little bit more after my dad in terms of academic interests.
"When I was young he brought home magnetic tapes and other paraphernalia that computer programmers would use back in the 70s, which really fascinated me. I was always curious about how things worked and why the universe is set up the way it is. So my ending up doing science was not a surprise to them."
Born in Lansing, Mich. when her mother studied at Michigan State before beginning a teaching career at Old Dominion University in Virginia and Western Michigan University, Arce became a North Carolinian and moved to Raleigh when her mother joined North Carolina State's faculty.
Her first introduction to Duke was as a participant in the campus-based summertime Talent Identification Program. While attending Princeton, where she graduated with honors in 1998, Arce decided to pursue high energy physics, whose practitioners smash together subatomic particles at hyper velocities to study the fundamentals of matter and energy. "I liked to think about the smallest constituents of matter and the small and simple rules that explain all the complexity we now see," she recalled.
"So my curiosity has been definitely directed towards the kind of questions you answer with huge colliders and really-precise detectors of the particles made in those collisions."
A Princeton undergraduate summer project and her postgraduate work at California's Lawrence Berkeley Laboratory introduced her to the ATLAS detector group at the CERN Large Hadron Collider in Switzerland. That 16.7 mile underground site on the Swiss-French border, now the world's most powerful proton-smasher, will be the focus of her future research. And other Duke high energy physicists will be there too.
Her first research interactions with Duke high energy physicists came as a Harvard graduate student, when she and they began at a particle detector called CDF at the Fermi National Accelerator Laboratory (Fermilab) near Chicago. "I always knew about the Duke group and began working closely with them as a graduate student," she said. "The way high energy collaborations work, you don't lose track of people you've worked with in the past."
Women -- especially African-American women like herself -- have been a distinct minority in physics. But Arce, who has served on panels devoted to both subjects, said she has benefitted from recent advancements.
"Since I started working in high energy physics it certainly hasn't been lonely and there haven't been a lack of female role models," she said. "Black women are a different story. But there were minority women working at the Fermilab experiments whom I was very happy to see. And at the ATLAS experiment there are a noticeable fraction of African descent. So I think things are improving because, historically, all of the icons in our field have been white men."
While she has devoted about 13 years to her high energy physics research, teaching will be "really new to me," Arce acknowledged. "And I'm excited." Diving right in, she is teaching a spring course on classical mechanics designed for second-year physics majors. "That class was important to me as a undergraduate," she said. "You really start preparing yourself to do modern physics when you take it. I think it will be fun. Let's hope the students think so too!"
Arce and her husband Javier were lucky to both be postdocs at the University of California, Berkeley at the same time. Now that he is teaching at the University of Puerto Rico in Cayey, she is glad to be moving east for easier air access. "He'll come to Durham some weekends and I'll go visit him some others," she said.
Closer proximity to the tropics will also enhance one of her hobbies.
"I'm an amateur chocolate maker," she said. "A benefit of being married to a tropical ecologist is that every once in a while I can get a bunch of cacao pods to ferment and roast. We haven't planted and grown any cacao trees ourselves, but maybe that's the next step."