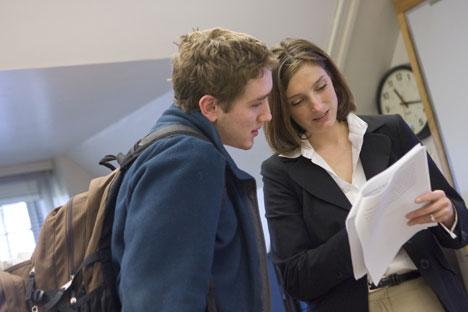 If you went to political science professor Sunshine Hillygus' website while she was teaching at Harvard, you would have heard a hog call -- woo pig sooie! - and seen an animated image of a grunting, scratching hog.
The unexpected graphic is an homage to the University of Arkansas Razorbacks and to her Fayetteville, Ark., hometown. She'll do the hog call herself if you catch her during a Razorback game.
Hillygus' website is currently being updated so she hasn't outed herself as a hog caller at Duke yet. Still, her school spirit runs deep. She named her 20-month-old son, Jacob Dickson, after Dickson Street, Fayetteville's lively college strip. (The daughter of free-spirited parents, Hillygus was named after a popular John Denver song from the 1970s.)
And it was at the University of Arkansas that she first got turned onto politics. It was 1992, the year her governor ran for president.
"As a college freshman I had a front-row seat to the presidential campaign," said Hillygus, who left her faculty post at Harvard to become associate professor of political science at Duke this semester.
The Clinton campaign got her excited about politics, but these days she remains non-partisan, putting her passion for the topic into the study of American political behavior, public opinion, and campaigns and elections. Just recently released in paperback, Hillygus' most recent book, The Persuadable Voter (Princeton University Press, 2009), was awarded the 2009 Robert E. Lane award for the best book published in political psychology. In it she analyzes the way voters make up their minds in a campaign and the strategies candidate use to sway their opinions.
In the book, she and co-author Todd Shields show how emerging technologies have enabled the use of "microtargeting," when politicians use personal information from their constituents to send individualized campaign messages.
"Candidates use direct mail, email, and so on to engage in dog whistle politics," she said, in which candidates communicate messages that can be heard only by intended targets, like the high-pitched dog whistle that can be heard by dogs but is not audible to the human ear.
Hillygus is teaching an introductory public opinion class this semester. "It is so rewarding to see students learn skills they can actually put to use. We are inundated with polls these days, so it is worthwhile to learn when you can or cannot trust those numbers," she said.
She is also starting a survey initiative at Duke, applying knowledge of survey methods she gained first as a graduate student at Stanford University and later as director of the Program on Survey Research at Harvard University. "Duke is a terrific place to study survey methods because there are so many survey scholars and practitioners in the area," said Hillygus.
Since moving to Durham, her first few months have been busy with unpacking boxes, traveling for conferences, and preparing for classes, but Hillygus has been looking forward to the milder Southern climate so she can return to triathlon training. In the meantime, she's happy to be a sports spectator and is gradually learning to cheer for Duke.
"One of my fondest memories of all time is the 1994 national championship game when the Razorbacks beat Duke," in basketball, said Hillygus. "But I went to the Sweet 16 game in Boston last year and cheered on Duke. I'm just happy to be some place that has real college basketball."