Can Rock Band Save Music Education?
With school budgets slashed, Beatles video game can spark a love of music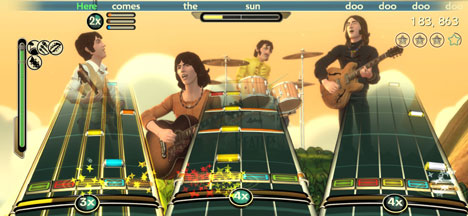 Parents don't have to let their youngster's fascination with the new "Beatles: Rock Band" video game turn into a "Magical Mystery Tour" to nowhere.
Instead of letting them become little "Day Trippers" who only master the game, parents can use the experience to spark a real love for music and even a desire to play a musical instrument, says a Duke University child development expert.
"Video games like this have the potential to spark an interest in music. But to create a long-lasting interest in music, parents also need to provide opportunities for children to use real musical instruments," says Lisa Linnenbrink-Garcia, an assistant professor in developmental psychology and education at Duke.
With so many schools no longer able to afford music programs for students, parents, along with interactive, music-themed video games will likely play a greater role in nurturing the next Lennon and McCartney.
A survey last month by the by the American Association of School Administrators found that among 160 school administrators in 37 states who responded, 74 percent could not save teaching positions in art, music and physical education, despite receiving one-time federal stimulus money.
Maybe the Fab Four avatars can help.
The much-anticipated "Beatles: Rock Band" was released Wednesday, and features custom-built models of the instruments played by John, Paul, George and Ringo, as well as many of the band's actual recordings. (More information about the game can be found here.)
"The game allows players to actively play or sing along and choose among a variety of songs. Both active involvement and choice are important features for triggering interest in a new area," says Linnenbrink-Garcia, who studies how parents and teachers can help support children's motivation and is also a violinist with a degree in music.
To develop a deeper and longer-lasting interest in music, however, Linnenbrink-Garcia says children need the opportunity to develop an appreciation and enjoyment of the music itself, rather than the video game only.
"Children also need the opportunity to develop confidence in their music skills, rather than their skill in using a game controller," she says. "To do this, parents should make sure to build upon children's initial interest by giving them opportunities to use real musical instruments and encouraging them to take music lessons."
Dorothy Kitchen, director of the Duke University String School, has been teaching music for some four decades. She says there are many benefits for youngsters who learn to play a musical instrument, including friendships, interaction with teachers and parents, the reward of playing a song, and a "discipline in the steadiness of the practice requirement that generally comes with music lessons."
"It forms a framework for learning anything, and the skills are always dormant in the hands and the mind even when the instrument is put away later through the demands of college or work," Kitchen says. "It is a lifelong gift, and can be used in any style of music, because all operate the same way, even though the sounds are different."