Jocks to Docs
Program shepherds female athletes through medicine's maze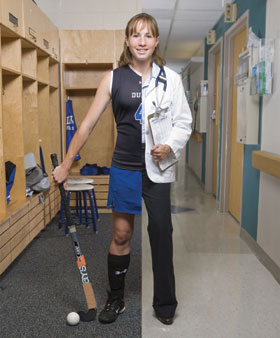 Johanna E. Bischof, T'05, MSIII, remembers well her first experience observing brain surgery: The open skull. The pulsing of the exposed brain. The blood.
"I got sick," the irrepressible Duke medical student says with a laugh. "Well, not sick-sick, and I didn't pass out, but I was very queasy and spent a lot of time leaning against the wall."
Forgive her the un-doctorly decorum: She was just a Duke undergrad at the time and not fully confident that she wanted to become a physician. Observing in the operating room is a rarity in undergraduate education in the United States, and that day proved to be a powerful and defining moment for her.
"Seeing the brain moving in front of you is an incredible thing. I was awed by the experience," she says.
Bischof is a former All American Blue Devil field hockey player and current rising star in the Duke University School of Medicine. She is the consummate example of the type of student driven, high-achieving, and goal-oriented that Duke neuro-oncologist Henry Friedman, MD, HS'81-'83, and Chief of Neurosurgery Allan Friedman, MD, HS'74-'80, (no relation) began targeting 10 years ago when they germinated the idea for a unique Duke mentoring program.
CAPE short for Collegiate Athlete Pre-medical Experience mines highly focused undergraduate female Duke athletes who have an interest in medicine and gives them unprecedented access and insight into the medical world. The goal is to engage them with mentors, role models, lectures, discussion groups, and clinical experiences so they don't become discouraged in the still male-dominated world of medicine. It is the only program in the country that gives undergrads such deep exposure to the field of medicine.
According to the doctors Friedman, far too many promising female physician hopefuls abandon their medical dreams out of frustration and lack of female role models.
"We try to show them that they can do it," says CAPE Associate Program Director Terry L. Kruger. "We put strong female physician role models in front of them to tell them how they did it. We're helping to change medicine a little bit and grow amazing young women into amazing doctors."
What that means, says Henry Friedman, the deputy director of Duke's Preston Robert Tisch Brain Tumor Center, "is that by the time they get to medical school they are pretty damn accomplished. They are comfortable meeting patients, taking medical histories, and giving physical exams. They inhale the opportunities given to them."
Adds Allan Friedman, also deputy director of the Tisch Brain Tumor Center: "If you want to tap into a pool of motivated, team- and goal-oriented women with great time management skills who are interested in medicine, what better population is there than successful Division I athletes?"
CAPE Graduates Excel
There currently are 50 female undergrad students enrolled in CAPE. The majority are athletes (currently from every sport except golf), but some are Baldwin Scholars whom CAPE admits to satisfy NCAA requirements that student-athletes not receive unique treatment.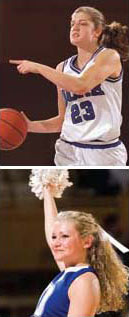 Georgia Schweitzer Beasley, top, and Cameron Williams
Students apply for the program, are interviewed by a pair of current CAPE students, then are chosen by a panel. At this spring's Duke University graduation, 18 graduates also became CAPE alums, most of who will go on to top medical schools around the country, including Duke. Georgia Schweitzer Beasley, T'01, MD'08, HS-current, the first-ever female athlete taken under the wings of the Friedmans some 10 years ago, was a first-team All American on the Blue Devils' women's basketball team. After graduating Duke she played three years of professional basketball in the WNBA, came back to Duke for her medical education, and stayed here for her surgical residency.
She says the demands of being a Division I athlete and a pre-med student were daunting, and she welcomed Henry Friedman's mentorship after their chance encounter at an outdoor basketball court where Friedman had gone to pick up his daughter Sara.
"At one time I missed a total of six weeks of school in one semester," she said. "We had the Final Four, then I had shoulder surgery." With on-the-road tutoring and the guidance of CAPE, Beasley maintained her focus on medicine and credits Henry Friedman and the program with giving her the confidence to "know that this is exactly what I'm supposed to be doing."
The current Duke general surgery resident now gets to give back: She serves as a role model and someone CAPE students can go to for advice and support. She's interested in surgical oncology and cardiothoracic surgery. "Surgery definitely is a field with not a lot of women," she says.
Cameron Williams, T'08, MSI, a former varsity football and men's basketball cheerleader,a current Duke medical student, and now a cheerleader for CAPE, says she "can't emphasize enough how awesome Allan (Friedman) and Henry (Friedman) are. They are very busy but always make time for you. "
The program, Williams adds, "really gave me a head start in medical school. It's made for athletes, so they understand our schedules and work around them."
That's no simple task for Kruger, who reviews every female sports schedule for the year and plans programs around practice schedules, games, and regional and national tournaments. She also plans the students' summer internships of rotations through various Duke clinics or laboratories, their summer medical outreach trip to Guatemala or elsewhere, journal club meetings, mentor dinners, and weekly speaker luncheons.
"Terry lives for the kids in CAPE," Bischof says. "She is the heart and soul of the daily operations."
Valuable Patient Interaction
At other institutions students usually aren't exposed to patients until their second or third year of medical school. Henry Friedman says giving undergrads the opportunity to interact with patients is one of CAPE's most valuable traits.
CAPE students are gradually introduced to brain tumor patients in the brain tumor clinic, first by sitting in as a physician takes medical histories, then by observing physical exams. Next, students assist with taking histories, and eventually do it on their own, something they say is a major milestone.
"It was terrifying and intimidating," Bischof says of her first one-on-one with a patient. "But if you can talk to a brain tumor patient you can talk to anybody."
Beasley remembers her strong desire to connect with the first patient she saw on her own. "I was nervous that I would not come across as compassionate and caring as Henry (Friedman)," she says.
The experience proves beneficial for both students and patients.
"The patients are so positive," Williams says. "You might go in a little grumpy from getting a bad test score, but you leave uplifted. It's inspiring talking to them."
Only when the physician feels the student is ready will they be allowed to see a patient solo, Allan Friedman says. "We don't want them to have the deer-in-headlights look," he says.
"It is scary for them," Henry Friedman adds. "They're assuming a role in society they've never done before. They're there not as a friend or relative, but as a health care provider with all of the importance that the sacred relationship implies."
Patient interaction is what students value most about CAPE, according to Kruger. "They are so far ahead of other students when they get to medical school and don't have a fear about talking with a real person."
As for preparing students for the operating room, Allan Friedman says students are always seated at first and observe based on their comfort level. "The goal is to make it as positive an experience as possible," he says.
But, he adds, "we understand a percentage of them will pass out."
Funding CAPE a Perpetual Struggle
The annual operating budget for CAPE is $200,000 which is raised entirely through donations. It pays Kruger's salary, funds sending CAPE students to Guatemala or elsewhere for a summer medical outreach experience, pays for Role Model Dinners, Invited Speakers Luncheons, and any miscellany associated with the program.
The precarious nature of funding the program "is always stressful from year to year," Henry Friedman says.
This summer CAPE students will be staying close to home for their medical outreach, working in local neighborhoods with Duke Community and Family Health.
"Economically it's better for us, but it also shows the kids that every community has a need," Kruger says.
For information about the CAPE program, visit http://www.cancer.duke.edu/ and enter CAPE in the search field.