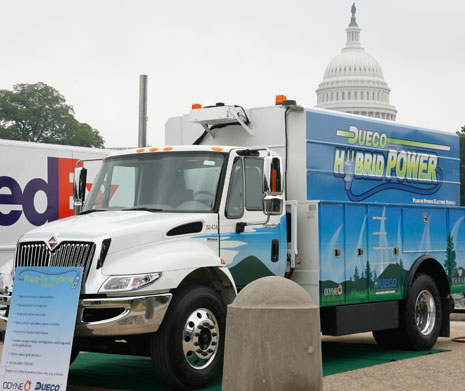 The United States is positioned to lead the development of hybrid commercial trucking, which may lead to job creation in truck manufacturing, advanced energy storage, electronics and software, according to a study by researchers at Duke University.
The opportunity comes as hybrid technology used in the Toyota Prius and other hybrid cars becomes available in commercial delivery trucks.
The report by researchers at Duke's Center for Globalization, Governance and Competitiveness was released Thursday at the first Hybrid Day on the Hill, an event organized by CALSTART, a clean transportation nonprofit organization, and its Hybrid Truck Users Forum.
The event featured 17 medium- and heavy-duty hybrids from five major truck makers and six driveline suppliers, showcasing the some of the world's most advanced trucks. At the event on Capitol Hill in Washington, D.C., industry experts from environmental, military and commercial fleet backgrounds outlined the status and benefits of hybrid technology.
"Continued growth in this industry can spell a strategic win for the U.S. economy and the environment," said Marcy Lowe, research associate at Duke and a lead author on the report. "The United States is proving a global leader in this sector, and with the right policies in place, U.S. firms could expand market penetration, add jobs, and increase environmental benefits."
The report indicates that more than 30 states are home to truck and component manufacturing and development in the clean truck sector, and that the growth of the industry offers solid economic opportunities for the whole nation. Duke's study was commissioned by the Environmental Defense Fund and CALSTART's Hybrid Truck Users Forum Incentives Working Group.
"Even in the midst of the economic downturn, American truck and system makers are poised for a breakthrough in producing hybrid technology, leading to reduced fuel use and emissions and creating 'green tech' jobs," says Bill Van Amburg, CALSTART senior vice president. "But to succeed, the industry needs support to help fleets purchase efficient trucks and a long term program to grow the technology."
The report follows up on a Duke study released last fall highlighting the direct links between low-carbon technologies and United States jobs, showing that U.S. manufacturing is poised to grow in a low-carbon economy. That report, "Manufacturing Climate Solutions," provides a detailed look at the manufacturing jobs that already exist and would be created when the U.S. takes action to limit global-warming pollution.
Copies of both studies are available at http://www.cggc.duke.edu/environment/climatesolutions/.