Trustees Elect Veteran N.C. Legislator Dan Blue as Chair
Blue, who earned his law degree from Duke in 1973, has served on the board since 1995.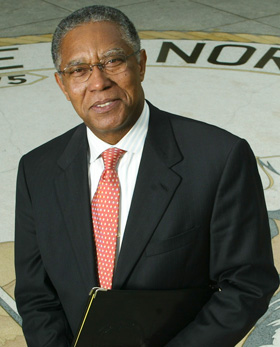 The Duke University Board of Trustees on Friday elected as board chair Daniel T. Blue Jr., a Duke Law School graduate and veteran North Carolina legislator.
Blue, who was elected to the board in 1995, had most recently served as vice chairman. He assumes the new position on July 1.
He received a bachelor's degree from North Carolina Central University in 1970 and a law degree from Duke in 1973. Blue was first elected to the North Carolina State House of Representatives in 1980, where he served as speaker. He left the legislature in 2002 to run for the U.S. Senate, and returned to the House in 2006. Earlier this week, he was selected for the state Senate seat left vacant by the death of Vernon Malone.
Blue is a managing partner of the law firm Blue, Stephens & Fellers in Raleigh. He becomes the first African American to chair Duke's board.
The trustees re-elected G. Richard Wagoner Jr. as vice chair of the board. Wagoner was chairman and chief executive officer of General Motors Corp. until earlier this year. He received a bachelor's degree in economics from Duke in 1975 and an MBA from Harvard University in 1977.
The trustees also approved a resolution to change the name of the Film/Video/Digital Program to the Program in the Arts of the Moving Image. Faculty in the program recommended the change to better reflect student interests and the wider range of expertise of the program's faculty.
Over the last 20 years, the presence and volume of moving images has increased substantially, blurring distinctions between film and computer-generated moving images, said associate professor Stanley Abe, interim director of the program. "The new Program in Arts of the Moving Image will build on the strengths of the old -- the production of film, video and animation as well as film history and criticism -- by expanding to include the production of innovative moving image arts and the critical study of such new moving image forms," he said.
In addition, the trustees approved a resolution in tribute to Rebecca Ward, a rising sophomore at Duke who won the NCAA Championship in women's saber competition this year. She became the second fencer in Duke history to win an NCAA championship. Ward also won two bronze medals in the 2008 Summer Olympic Games in China.
"The university takes great pride in having Rebecca Ward as an ambassador of Duke University," states the resolution.