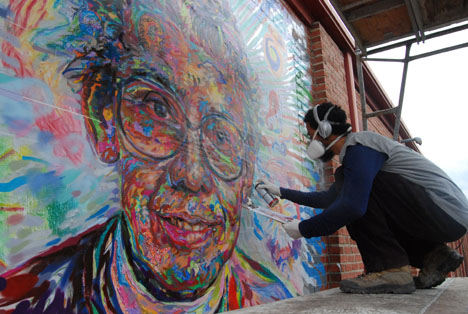 Members of the Duke community won't have to travel too far to see a mural honoring the history and people of Durham neighborhoods.
The last of 14 murals in a documentary public art project called "Face Up: Telling Stories of Community Life" was installed last week on the side of a Duke Facilities Management Department Building at 117 S. Buchanan Blvd.
Durham residents and Duke students and staff created the locally inspired murals in several southwest Durham neighborhoods in an effort to bring people together and enhance the strong relationship between Duke and Durham.
"We wanted to help build a sense of community between the hundreds of people who wanted to contribute to the Duke-Durham relationship," said Brett Cook, an artist who helped to create the murals and was the Lehman Brady Visiting Joint Chair Professor for Documentary Studies and American Studies at Duke and the University of North Carolina-Chapel Hill in spring 2008. "We're bigger than the one neighborhood we come from."
The inspiration for the final mural on the Facilities building is Pauli Murray, a prominent civil and women's rights activist from Durham. The 12-foot high rainbow-hued mural of Murray was drawn, colored and pieced together by hundreds of people from Duke and Durham during social events that started in the fall of 2007. Surrounding the art are quotes about Murray from local residents, historians and her family.
"We're hoping this gets people asking how Duke is connected to Durham and how they can be a part of it," said Barbara Lau, the community documentary projects director for the Center for Documentary Studies and a leader for the "Face Up" project. "It's important to celebrate that relationship."
Duke's Center for Documentary Studies and Office of Community Affairs partnered with the Southwest Central Durham Quality of Life project to complete the "Face Up" project. Since last fall, collaborators -- including Duke students and employees -- have come together for several community art parties to make art used for "Face Up." In all 14 murals have been installed across Durham. 
Organizers said they believe getting people to work together on public art that celebrates their neighborhood's history, traditions and people will inspire pride in where they live and foster new friendships.
Alisa Johnson, interim chair of the Southwest Central Durham Quality of Life steering committee, said it was important to find a place at Duke for a mural to highlight the work of university and community members who came together to make the art. The location was selected because of it's proximity to other Duke buildings, East Campus and the Burch Avenue neighborhood down the street. Other murals close to Duke's East Campus were painted on Foster and West Chapel Hill streets.
"We want to strengthen our community and Duke is a big part of our community," Johnson said. "We want to be as connected with Duke as we are with our other neighbors."
For more information about "Face Up" and locations of murals, click here.