Strategic Redesign
Cold War historian John Lewis Gaddis discusses "grand strategy"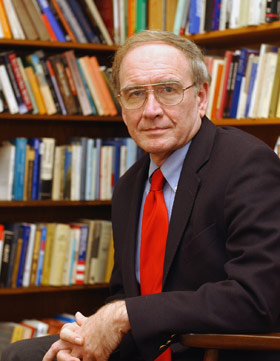 The Triangle Institute for Security Studies at Duke will mark its 50th anniversary conference this month with a lecture from Yale University professor John Lewis Gaddis, a nationally renowned Cold War historian.
Giving the Karl von der Heyden Distinguished Lecture, Gaddis' talk, "What is Grand Strategy?," will be held at 5:30 p.m. on Thursday, Feb. 26 in Fleishman Commons at the Sanford Institute of Public Policy. The event, which is cosponsored by Duke's new American Grand Strategy Program, kicks off the Institute's two-day conference on "Debating Grand Strategy After Major War."
"From a scholarly point of view, there is no one better suited to keynote the conference," said Peter Feaver, a political science professor and director of the Triangle Institute for Security Studies. "Gaddis is an insightful scholar, so faculty will find it rewarding. If you've taken any course in American foreign policy at a college level, you've probably read him, so students will be excited to hear him."
Author of The Cold War: A New History and many other books, Gaddis is currently finishing the authorized biography of George F. Kennan, "the preeminent Cold War practitioner-theorist in the grand strategy field," said Feaver, who defined grand strategy as an ordered, purposeful plan that reconciles a country's ambitions, threats and resources.
"I hope people come away thinking 'ah, there's a way of thinking critically and constructively about American foreign policy that I haven't thought of before,'" Feaver said, adding that Gaddis has lent his expertise to help launch Duke's American Grand Strategy Program.
"Gaddis, along with Paul Kennedy, started the Grand Strategy Program at Yale, which is an inspiration for the program we're trying to build at Duke," Feaver said. (He noted that Kennedy will speak at Duke on March 5 as part of the Provost's Lecture Series.)
Feaver said Gaddis' lecture arrives at a poignant time.
"We're right smack dab in the middle of what many have called an epochal moment in American history," Feaver said. "Barack Obama is feeling his way toward his own grand strategy."
***
Lecture: John Lewis Gaddis 5:30 p.m. Thursday, Feb. 26 Fleishman Commons, Sanford Institute of Public Policy, free Information: 613-9301; pubpol.duke.edu/centers/tiss