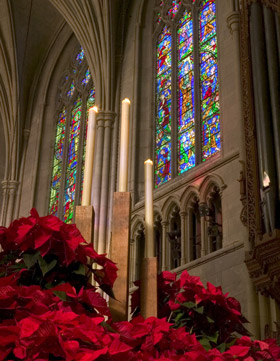 In what has become a holiday tradition in the Triangle, the Duke Chapel Choir joins soloists and an orchestra to bring George Fredrick Handel's "Messiah" to life. This year marks the 75th anniversary performance at Duke of one of Handel's most famous works.
There will be three performances in Duke Chapel during the first weekend in December; all are open to the public. The first 300 Duke students to contact the box office will receive free tickets.
"Handel's 'Messiah' is the signature piece for the Chapel Choir, being the one work that they perform every year," says Rodney Wynkoop, director of chapel music. "From the triumphant and extremely popular 'Hallelujah Chorus' to the despair of 'He Was Despised,' there is a huge variety of styles in 'Messiah,' all made memorable by the tunefulness and appeal of Handel's music and the power of the biblical texts."
The tradition of performing Handel's "Messiah" began in the still unfinished Duke Chapel on Dec. 10, 1933. For the first 34 years of the chapel's history, only selected portions of the "Messiah" were performed.
In 1968, the Chapel Choir performed the oratorio in its entirety for the first time, featuring two conductors, Paul Young and Benjamin Smith. The concertmaster of this and many other performances of the "Messiah" at the chapel was Giorgio Ciompi, founder of Duke's Ciompi Quartet.
The Duke Chapel Choir is comprised of 130 members including students, faculty, staff and other singers from the local community. Under Wynkoop's leadership, the Chapel Choir will be accompanied by nationally recognized soloists and an orchestra consisting of accomplished local musicians. Some of the current members of the Chapel Choir have sung the piece more than 100 times in concert.
"Performing 'Messiah' three times [during the weekend] gives the conductor, orchestra, soloists and choir the opportunity to refine elements from one performance to the next," says Jan Gwyer, choir member and professor at Duke Medical Center. "The work is so large in scale, there is always something to do better or differently."
***
Handel's Messiah 7:30 p.m. Friday, Dec. 5; 2 p.m. Saturday, Dec. 6; 3 p.m. Sunday, Dec. 7 Tickets are $5-15. Information: 684-4444; tickets.duke.edu