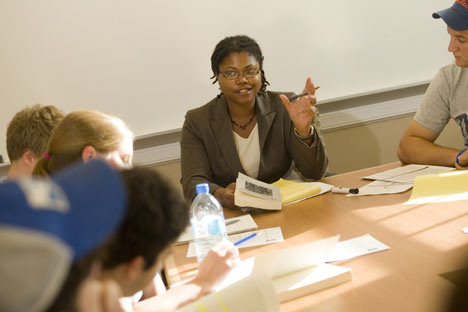 Adriane Lentz-Smith, a new assistant professor of history, says she has much to look forward to in her career at Duke: engaging students so they are surprised by and invested in their world, she said, and talking with smart people about subjects that interest her.
She also faces some challenges: finding a way to teach, write and live well, and, as a recent postdoc from UNC-Chapel Hill, figuring out whom to root for in Duke-Carolina basketball match-ups.
"I suspect I don't know what the most challenging thing will be, which is disconcerting in and of itself," Lentz-Smith says.
It's her second stop at the university. She first came to Duke as a middle-school student 20 years ago, participating in the Talent Identification Program's summer sessions. Though her family moved around some to follow her father's career in the Army, Lentz-Smith spent a good portion of her childhood in the Atlanta suburbs.
After college, she followed her older sister's "life advice" that "every Yale graduate moves to either New York or San Francisco." She chose the West Coast and was hired by a technology company an given the lofty title of "Internet ontologist."
The work was an extension of college life, she said. "I wore pajama bottoms to work; we played football in the hallways. It was fun, but at some point I realized I couldn't imagine caring about any of it enough to still be doing it in 10 years," she says. She applied to graduate school and at Yale took a deeper look at her senior thesis on black soldiers in World War I, seeing beyond the discrimination they faced to how they talked about who they were and how they relate to each other and the world. In it, she saw the civil rights movement before the better-known struggles of the 1950s and '60s.
She is completing her first book, due out the end of 2008 by Harvard University Press, about black soldiers in World War I and the strong tie between manhood and fitness for government and citizenship rights.
She says she was drawn to Duke by the university's commitment to interdisciplinarity.
"Not every school has followed through in encouraging collaboration across departments and across fields," she says. "I felt Duke really had that as a strength."
She takes part in the interdisciplinary faculty fellows program at the Social Sciences Research Institute, and has been impressed by the John Hope Franklin Humanities Institute and the Institute for Critical U.S. Studies.
At Duke, Lentz-Smith will teach African-American history, modern U.S. history and topics pertaining to U.S. encounters with the world. This fall, she is teaching a seminar on the nation and Jim Crow, exploring how the rise of racial segregation as a political and social program might be connected to American expansion overseas. Next semester, she will teach a course on the U.S. from 1914 through 1941, looking at the Depression and the two world wars in their international and domestic contexts.
Understanding history, she told students in one of her first classes, is crucial to understanding the present. While not a proponent of the adage about those not knowing the past being doomed to repeat it, she does believe that "nothing comes out of nowhere."
"A liberal arts education is an ethical education," she told her students. "It forces you to think about who you are in society and what part you will opt to play.
"History is not a straight map for behavior in the present, but you can't understand the moment you are living in if you don't understand all of the things that went into making it."