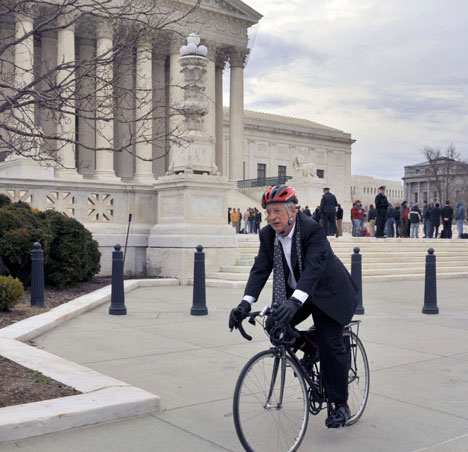 Walter Dellinger, Duke University's Douglas B. Maggs Professor Emeritus of Law and a former acting solicitor general under President Clinton, rode his bike to the U.S. Supreme Court Tuesday an exercise he says helps him focus and prepare for oral arguments.
Dellinger has argued before the Supreme Court more than 20 times he has three cases before the court during this term alone but perhaps no argument has been so closely watched as Tuesday. Dellinger represented the District of Columbia in District of Columbia v. Heller, arguing in support of the city's 32-year-old ban on handguns. The case marked the first time in nearly 70 years that the Supreme Court has debated the right to bear arms.
At issue is the precise meaning of the Second Amendment: "A well regulated Militia, being necessary to the security of a free State, the right of the people to keep and bear Arms, shall not be infringed."
"The amendment's first clause confirms that the right is militia-related," Dellinger told the court, arguing that the framers of the Constitution intended to protect the right to bear arms only for members of the militia.
Questions from the judges indicated skepticism of Dellinger's argument, leading many legal experts to speculate that the court may, for the first time, interpret the Second Amendment to mean that every individual has the right to own a gun. A decision is expected before the court's term ends in June.
Law students from around the country lined up outside the court in the hope that they could hear the oral argument. Latoya Edwards, a second-year law student at Duke, drove to Washington, D.C., from Durham Monday. She told The Washington Post she agrees with the city's position. "I've always felt that the right to own a gun has been a collective and not an individual right," she said.
During the Clinton administration, Dellinger served as adviser to president on constitutional issues and as assistant attorney general and head of the Office of Legal Counsel. As acting solicitor general during the Supreme Court's 1996-97 term, he argued nine cases on behalf of the government. He is the chair of appellate practice for the law firm of O'Melveny Myers in Washington, D.C.
For a Washington Post story on how Dellinger prepared for the case, click here.