Tea with Duke Medicine Trailblazers
Armstrong, Wilson, Brown discuss their history with Duke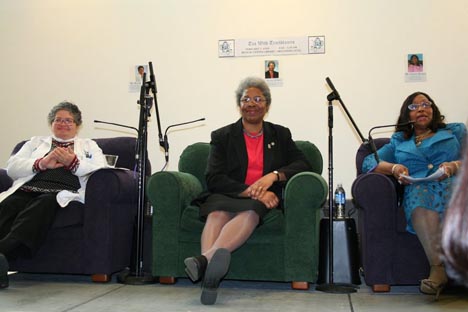 Trailblazing comes natural for Brenda Armstrong.
As a Duke undergraduate and president of the Black Student Union in 1969, she helped organize the famous Allen Building Takeover to bring attention to the plight of African American students at Duke University.
"It was a different time in Duke's history," she said, "a period where Duke was trying to figure out who it ought to be, especially with regard to African Americans."
After graduating from Duke and attending medical school in St. Louis, Armstrong returned to Duke in 1979 as a faculty member. Then, in 1995, she was appointed dean of admissions for the medical school. In that role Armstrong has been instrumental in attracting the best and brightest to Duke School of Medicine, including the highest percentage of underrepresented minorities in the nation.
"We looked at who we wanted to be as a medical school -- one that brought those students capable of both brilliance and enormous humanism," said Armstrong, a native of Rocky Mount. "To go out in the name of Duke Medicine has been the joy of my life."
Armstrong was one of three panelists sharing their inspirational stories -- each of which began at Duke -- during a recent "Tea with Trailblazers" event sponsored by Duke Medical Center Library. Also speaking were Dr. Joanne A.P. Wilson, professor of medicine in gastroenterology, and Dr. Thelma Brown, president and CEO of Central Home Health Inc. and Central Family Home.
From humble beginnings as the oldest of seven children living in Raleigh, Wilson has also cultivated a pioneering career at Duke. She was president of the medical student body while attending Duke School of Medicine, where she was the second African-American woman to graduate.
She recounted her days as a candy striper, "sent to work in sterile supply because I was African American. But I learned so much from the women in charge of equipment." Even today, as a gastroenterologist, she has an affinity for trays of equipment, she joked.
In 1995, Wilson became the second woman in the Duke Department of Medicine to be promoted to full professor.
Brown has flourished in the areas of nursing and health administration, and in 1969 she became Duke's first African American respiratory therapist and cardiac catheterization professional.
"The environment for African Americans seeking educational opportunities in the sixties was often hostile, unencouraging and even at times racially oppressive," she said. However, Brown continued on to earn her doctorate so she could overcome the assumed shortcomings of her background.
She recalled the racially charged atmosphere of working in the newly integrated Durham County General Hospital, now Durham Regional Hospital. "We had to deal with a lot of bomb threats. As nurses, while everyone else was leaving the building, we had to go around and make sure our patients were safe," she said.
Brown recognizes that her struggles have paved the way for future generations. "I think it is imperative that we all remember that the fight for equality and justice must prevail," she said. "There will be other trailblazers that will follow and hopefully they will not have to face the same intolerence, bias, and injustice which are designed to destroy dreams, hopes and aspirations."