Duke@Work
A new self-service website allows employees to update personal information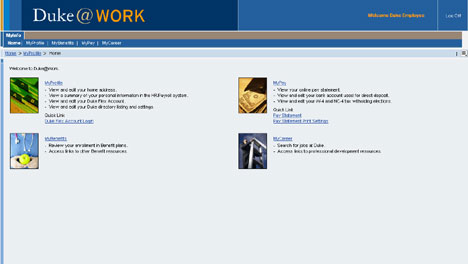 All faculty and staff now have direct online access to view and update personal information at Duke through a new self-service website called Duke@Work.
The secured site will be accessible to all faculty and staff using NetID and password. It will be accessible from http://work.duke.edu and will have a prominent link on the Human Resources home page.
Features of the Site:
The site will offer faculty and staff more flexibility to access and update their information from any computer with Internet access. Through the site, faculty and staff can:
View current and past pay statements from August 2002

 

Change home address

 

Update work address (physical location)

 

Access health care or dependent care reimbursement account
View retirement plan balance

 

Review benefit participation in certain plans

 

Add money to DukeCard FLEX account

 

Explore professional development opportunities

 

Search for jobs at Duke

 

Set up or change bank accounts for direct deposit

 

Change Federal and North Carolina tax withholdings amounts

 
Eventually, the website will be the one-stop-shop location to allow faculty and staff to enroll in benefits, renew parking permits, and access retirement accounts and tools. Duke@Work will also be the site from which supervisors, payroll representatives, and business managers can access other online functions such as iForms, Candidate Selection, and the Budget Planning System.
Going Green:
The website will also support the university's environmental sustainability efforts by allowing people to opt out of receiving a paper direct deposit statement. In a survey of pilot participants, more than 80 percent indicated they would use the site regularly, and 75 percent indicated they would consider opting out of receiving paper pay statements in the future.
A contest was held last fall to name the site. Michelle Nunalee, a postdoctoral associate in Biomedical Engineering, won the contest and an iPod Touch from more than 1,200 entries. For more information, visit www.hr.duke.edu/selfservice.