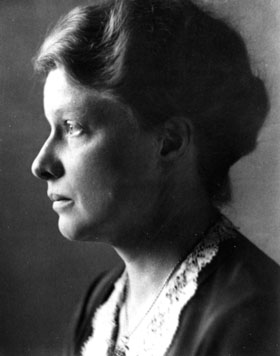 The first woman on Duke's physics faculty was a renowned researcher in the pathbreaking field of spectroscopy. She shared insights with Albert Einstein and other leading physicists. She came to Duke to escape the Nazis. And yet, Hertha Sponer's name isn't as familiar to people around here as many science and women faculty members feel it should be.
Next week, President Richard H. Brodhead will launch the Hertha Sponer Presidential Lectureship, designed to highlight prominent women in science, engineering, mathematics and medicine. Margaret Murnane, professor of physics at the University of Colorado at Boulder, will deliver the inaugural lecture. (See accompanying story.)
The idea of honoring Sponer and highlighting the role women have played in the Duke sciences came from the Senior Women in Science at Duke, an advocacy group of women faculty in the natural sciences. The group also wanted to bring prominent women scientists to campus to serve as role models.
"We had fun going to the archives in the fall '06 reading about a variety of women in the sciences at Duke, looking for the right person to name the lecture series after," said Dr. Nancy Allen, vice provost for faculty diversity and faculty development and one of the organizers of the lecture.
"Finally, Hertha Sponer stood out. She was the first woman full professor in the natural sciences and in physics at Duke, arriving in 1936. There's an interesting letter in the archives from famous Cal Tech physicist Robert Millikan to Duke President (William) Few suggesting that he establish the physics department with a few good men. Instead, he brought in Hertha, and it's important to remember that women have played a role in the sciences at Duke."
The lecture organizers aren't the only people trying to bring Sponer's name to the forefront. The physics department has established a website honoring her. The site was developed by Fritz London Professor Emeritus Horst Meyer, who knew Sponer when he came to Duke in 1959.
The Sponer Lecture
Colorado physicist Margaret Murnane will present the first Hertha Sponer Presidential Lecture on "How to Make Atoms Sing and Molecules Dance" at 4 p.m. Tuesday, Nov. 6, in the Griffith Film Theater.
The speech will explore how to use fast light pulses to observe and control nature.
Like Sponer, Murnane is a prominent physicist, and during her visit to campus, she will meet with a number of groups including women scientists at Duke, N.C. State, UNC-Chapel Hill and N.C. Central University.
"We intentionally wanted to start with a physicist," said Dr. Nancy Allen, one of the organizers. "We wanted to start with Hertha Sponer's field, but also because physics has been one of the classical areas where it has been challenging to recruits not just at Duke but across the country. We also thought that because Professor Murnane's work is very interdisciplinary, it would have particular value to work being done here at Duke."
For more information about the lecture, click here.
"In her time, Hertha was an important scientist in spectroscopy," Meyer said. "She was a pioneer in applying spectroscopy observations to problems in chemistry. At the time the field of Quantum Chemistry was becoming very important and developing rapidly. Her impact has been in the combination of molecular spectroscopy with chemistry applications. She acted as a liaison between these disciplines, After the fifties, this kind of spectroscopy became old-fashioned, but with the advent of new photonic technologies, molecular and atomic spectroscopy have been coming back strongly."
Born in 1895 in Germany, Sponer received her doctorate in theoretical physics in 1920 at the University of Göttingen, making her one of the first women in Germany to receive a Ph.D. in physics. She then studied under James Franck, who won the Nobel Prize in Physics in 1925. By 1932 she had nearly two dozen published articles and was on her way to a prominent academic career in Germany. She collaborated with leading scientists such as Edward Teller.
"By her own efforts she arrived at the best place, met with the best people and interacted and collaborated with several of them," Meyer said.
Her career changed when the Nazis came to power.
"She was not Jewish, but she was the student and assistant of James Franck, who was Jewish. Until he left the country, he was her protector," Meyer said. "The Nazis believed that women should not be teaching physics and doing research at a university. There was one faculty member in particular in Göttingen who tried to have her removed from her position. In short, her career was over. She could have stayed, but at most she could have taught high school. So she looked for a way out."
The Rockefeller Foundation started approaching American universities about bringing German academics to America. Six of them came to Duke: psychologist William Stern, physician Walter Kempner, sociologist Herbert von Beckerath, physicist Lothar Wolfgang Nordheim, theoretical chemist Fritz London, and Sponer. Nordheim's wife, Gertrude, also helped in the physics department and collaborated with Sponer on one article.
(Click here for former University Archivist William King's article on the Duke émigré faculty program.)
"She was a great addition to Duke," Meyer said. "I remember she worked very closely with graduate students and postdocs and was a great mentor."
In 1946 she married her former teacher and mentor James Franck, who was at the University of Chicago, but Sponer continued teaching at Duke and remained on the faculty until 1966 when she returned to Germany. She died in 1968.
Allen said the Sponer lectureship is just one way Duke can both recall the history of women at the university and promote possibilities for women in the sciences.
"We learn from remembering Hertha's contributions," Allen said. "Our hope with this lectureship and with other projects is to showcase examples of current and historical women scientists in these fields. It's valuable and important to showcase them as role models and to explore what they did as prominent scientists with interesting careers."