Let's Ride
Making Duke and Durham more bike friendly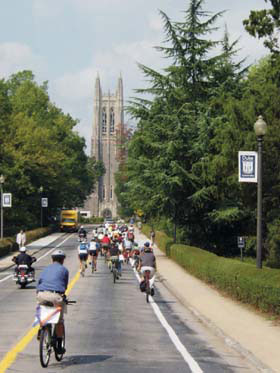 For seven years, Bob Clemen has been commuting to Duke's Fuqua School of Business -- a five-mile trek in heavy traffic through major intersections. Not that unusual, except that Clemen makes this trip by bicycle."The scariest thing in the world is to have a car pass by you moving at 30 mph just three feet away," says Clemen, a professor at Fuqua and lifelong bicycle commuter. "Either one of us could sneeze and it would be all over — for the bicyclist."
Despite the hazards, Clemen tries to bike to work as often as possible, keeping his bicycle, a lightweight, hybrid Expedition Sport, in his office.
He is among a growing group of bicycle commuters committed to changing the face of transportation in Durham and at Duke by pushing to make the area more bike friendly.
Though bicycle commuters such as Clemen must contend with potholes, narrow streets and speeding cars, many say the benefits outweigh the risks. Bicycling instead of driving, they say, improves health, saves money and, most importantly, decreases environmental impact.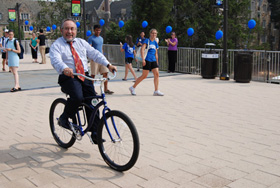 Watch a short video on the launch of the Duke Bikes program. Click here.
Duke has made strides toward reducing the university's environmental footprint and has become a national leader in sustainability by promoting "green" alternatives such as bicycling.
"You're reducing your use of fuel and also reducing car emissions," says Tavey McDaniel Capps, Duke's sustainability coordinator. "It's a really tangible and accessible way for people to have a positive environmental impact."
Even small changes can make a difference, she says. Drivers thinking about making a change might give it a try on World Car-Free Day Sept. 22, when folks locally and around the globe take a break from driving.
"It's important to emphasize that you don't have to do it every single day," McDaniel Capps says. "It doesn't have to be all or nothing. Once a week is enough to make a difference. If every employee at Duke biked to work once a week, that's 30,000 people that wouldn't be driving."
But commuting does require a substantial investment of time — and sweat.
"Fortunately, there's a shower facility at Fuqua," Clemen says. "Otherwise my colleagues might not like me so much in the summer." Some, but not all, offices at Duke have similar facilities.
To support Duke's sustainability initiative, students and several campus departments organized Duke Bikes, a pilot bike-sharing program for students.
This fall, students will be able to use their Duke student ID cards to check out a bike for up to five days at a time, like checking out a library book. The program has acquired 100 bikes, all painted Duke blue and tagged with the Duke Bikes logo. They can be checked out and returned under the Bryan Center Plaza.
Dale McKeel, Durham's bicycle and pedestrian planner, also recognizes the importance of alternative transportation. The Bicycle and Pedestrian Advisory Commission is working to implement a bicycle plan devised a year ago. The plan includes re-striping existing streets, widening others, repaving road surfaces and installing more bike racks.
McKeel says many daily trips are short enough for people to travel by bike, and the age and ability of most students, staff and faculty are conducive to biking around campus.
Those who want to travel by bicycle also can take advantage of free clinics to keep their bikes in good working order. Three years ago Mike Wolosin, a former member of Duke Bike Advocates, secured a "green" grant from the university to help repair bikes.
The student group, which has lobbied for improved bike infrastructure on and around Duke's campuses, will hold its free bike repair station this fall on selected weekdays at the Bryan Center Plaza. They'll help bicyclists with loose bolts, unaligned brakes, stretched-out cables and other problems.
There is a similar free program for Durham city residents. The Durham Bike Co-op opened six months ago under the auspices of Bull City Headquarters, an arts venue and community center, and is staffed by volunteers who can hardly keep up with the demand for bike repairs. They tackle everything from five-minute repairs to repairs that take up to 10 hours.
The co-op's goal is to share its bike-repair skills and to recover bicycles that have been abandoned and redistribute them to people who need them. Co-op members can earn a bicycle by working in the shop.
Leading the bike repairs under a blue tarp every Sunday between 1 and 6 p.m., Colin Booy says he has become a much better bicycle mechanic since the co-op started.
"The bicycle is a wonderful, lovely machine in so many ways," Booy says.