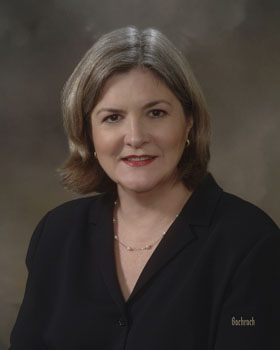 Nancy C. Andrews, M.D., Ph.D., an internationally renowned researcher and dean for Basic Sciences and Graduate Studies at Harvard Medical School, has been named dean of the Duke University School of Medicine. Andrews, 48, is the first woman to be appointed dean of Duke's School of Medicine and becomes the only woman to lead one of the nation's top 10 medical schools.
A pediatric hematologist/oncologist by training, Andrews has established herself as an accomplished leader and administrator. In her current role at Harvard, she oversees research in Harvard Medical School's pre-clinical sciences departments, as well as physician-scientist and graduate education. She previously served as the director of the Harvard-MIT M.D./Ph.D. Program, where she led the development of the program's current curriculum. She is also an associate in medicine, Children's Hospital, and distinguished physician in pediatric oncology at the Dana-Farber Cancer Institute.
Andrews is a member of the Institute of Medicine of the National Academy of Sciences, and was elected to the American Academy of Arts and Sciences earlier this year. She was also a Howard Hughes Investigator from 1993 to 2006.
"My goal, and that of President Brodhead, was to identify and recruit the best candidate in the country for this position and it was clear to us early on that Dr. Andrews was that person," said Victor J. Dzau, M.D., chancellor for health affairs and president and CEO of the Duke University Health System. "I have known Nancy personally for several years, and I am very pleased that she has accepted our offer. She is one of the most distinguished faculty leaders and physician-scientists at Harvard, and her recent service as dean of basic sciences and graduate studies has proven her to be an effective and decisive leader. I look forward to working with Dr. Andrews to further Duke's academic excellence and to advance my commitment to ongoing efforts to increase diversity within Duke Medicine leadership and faculty."
Andrews will succeed R. Sanders Williams, M.D., who was recently promoted to the position of senior vice chancellor for academic affairs after serving as dean of the Duke School of Medicine since April 2001. "Dr. Andrews is one of the nation's most accomplished physician-scientists and she is very well prepared to take up the challenges and maximize the opportunities of the dean's role at Duke," Williams said. "She has grasped immediately how we expect to derive the greatest benefit from our new organizational structure. It's difficult to imagine a better addition to our senior management team. For me personally, the prospect of working closely with her in the years ahead is tremendously pleasing."
"I am deeply appreciative and humbled by the opportunity to lead one of the premier medical schools in the United States," Andrews said. "I am looking forward to working with members of one of the most respected biomedical faculties in the world, and with the larger team of healthcare and research professionals that comprise Duke Medicine and drive its strong reputation."
A native of Syracuse, N.Y., Andrews received B.S. and M.S. degrees in molecular biophysics and biochemistry from Yale University. In 1985, she received a Ph.D. in biology from Massachusetts Institute of Technology and two years later she received her M.D. from Harvard Medical School. She completed her residency at Children's Hospital, Boston, and a fellowship in pediatric hematology/oncology at Children's Hospital and the Dana-Farber Cancer Institute, Boston. Andrews joined the Harvard faculty in 1991 as an instructor in pediatrics and rose through the academic ranks, being named to an endowed chair as full professor in 2003.
"We are delighted to welcome Dr. Andrews to Duke," said Peter Lange, Ph.D., provost of Duke University. "She has excelled in everything she has done, with accomplishments ranging from research and teaching to administrative leadership of complex and often interdisciplinary programs. She brings to Duke a combination of experience, vision and personal qualities that complements perfectly our strategic goals, priorities and values."
Duke's School of Medicine consistently rates as one of the nation's top 10. The school's more than 2,000 faculty members received $349.8 million in research support from the National Institutes of Health last year, ranking it fifth among U.S. medical schools. The school routinely receives more than 50 applications from students across the globe for each open slot, and more than 450 students are currently working toward their medical degrees.