Our Secret Spots
Where Duke employees go for beauty and peace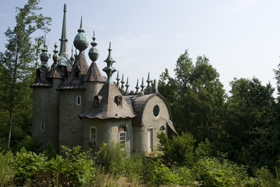 A mysterious castle, a hiding place in plain sight, a café overlooking a downtown street. We asked This Month at Duke readers to let us know where their special places are; these are some of their answers. We've highlighted a selection here; For more photos and Secret Spots, check out the slide show here.
Castle Mont Rouge
It began as a myth.
Lynn Van Scoyoc heard a story that there was a castle up on Red Mountain, in the rural community of Rougemont where she lives. She set out to find it, driving slowly up the steep country road. When she got to the top: "I was kind of amazed," she says. "It's like stepping into a fantasy.
"You're going by regular houses, trailers and all this, and at the end of this road, here's a castle," says Van Scoyoc, who works in the Center for Health Policy at Duke.
Archtecturally, the castle is a bit of a mishmash. It has onion domes like Eastern Orthodox churches, a few spires, some cupolas and copper roofs.
"In truth, it's more fairytale architecture than anything," says Robert Mihaly, the sculptor who built it.
He constructed Castle Mont Rouge ("Isn't that ridiculous? That's what I've been calling it," he says) over four years, and has let it languish in the past four years, he says. It's unfinished, with a rough interior he has been using as his studio.
The project began when Mihaly, a sculptor who once worked on the National Cathedral in Washington, D.C., was looking for inexpensive land on which to build. He found this plot on the mountain, too steep to be attractive to the usual developer. But to him, the terrain "interesting and romantic," he says.
Why a castle?
"I don't know," he says. "Maybe it's a question for analysis or something. You can see I don't really have a practical bone in my body."  Van Scoyoc says she loves to visit the castle, and often takes visitors there to look at the outside. (She has never been inside.) "It's just so unusual and so interesting," Van Scoyoc says. "It makes me love where I live."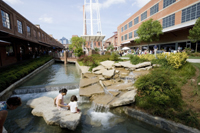 American Tobacco Campus
I love the landscaping, a beautiful mix of old and new, natural and man-made. I especially enjoy the running water and the live music during the summer. This place truly makes me relaxed and happy.
Catherine Knoop, Romance Studies
Duke Chapel Benches
My favorite spots on campus are the concrete benches built into the arches on both sides of Duke Chapel. It's a great spot to have lunch, make a private phone call or just relax. It's usually cool (temperature-wise), close to the chapel and has pretty flowers nearby. Even though the chapel is a main tourist draw on campus, I enjoy feeling a little "tucked away" when I sit there.
Lesley Looper, Perkins Library
Rue Cler
One of my favorite spots in Durham is the bakery at Rue Cler restaurant in the morning. I like to have a quiet cappuccino there with a scone as the sun comes flooding into the place, and interesting people traipse in and out in cameo appearances.
David Liu, Religion Department and Franklin Humanities Institute
Nasher Museum of Art
Outside of Duke Chapel, my favorite spot is the Great Hall of the Nasher Museum during a thunderstorm. The rain pounding on the glass roof, then cascading down the panes and finally sliding off the roof and onto the ground is surprisingly peaceful and calming. We rarely have the chance to experience the sound and motion of a rain storm without getting soaking wet in the process.
David Eck, Nasher Museum