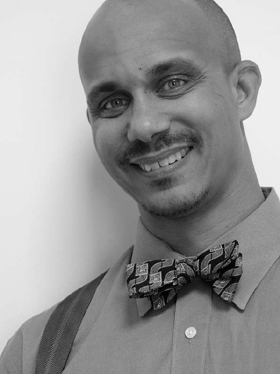 Lee Baker sets the ground rules for the courses he teaches early in the semester.
Taking on charged topics such as desegregation, white privilege, gay marriage and immigration, students can react passionately, which explains the need for some boundaries.
"We develop trust. I say over and over again, 'This is a safe space.' It's not just opinion time," said Baker, an associate professor of cultural anthropology and African and African American studies at Duke.
Honoring Teaching and Mentoring
Duke University this week honored faculty and students for excellence in teaching and mentoring in Trinity College and the Graduate School. Here is a list of award winners: The teaching awards recognize faculty and graduate students for their knowledge, ability to encourage intellectual excitement and to communicate that excitement to students.
The mentoring awards, sponsored by the Graduate School, underscore the importance of mentoring in education. This is the first year that graduate students were eligible for the mentoring awards.
Alumni Undergraduate Distinguished Teaching Award
Jerry Reiter, Statistics and Decision Sciences
School of Law
Distinguished Teaching Award
Catherine Fisk, professor of law
Stuart Grant, Clinical Faculty
Daniel Schmitt, House Staff
Jack Haney, Basic Science
Pratt School of Engineering
Klein Family Distinguished Teaching Award
Kathryn R. Nightingale, assistant professor of biomedical engineering
Lois and John L. Imhoff Distinguished Teaching Award
Joseph C. Nadeau, associate CEE professor of the practice
Capers and Marion McDonald Award for Excellence in Teaching and Research
Earl Dowell, William Holland Hall Professor of Mechanical Engineering and Materials Science
Capers and Marion McDonald Award for Excellence in Mentoring and Advising
George A. Truskey, professor and chair of biomedical engineering
Trinity College Distinguished Teaching Award Winners:
Richard L. Lublin Award
Lee Baker, Associate Professor, Cultural Anthropology
Dean's Distinguished Service Award
Alvin Crumbliss, Professor, Department of Chemistry
David and Janet Vaughan Brooks Award
Alexander Hartemink, Assistant Professor, Computer Science
Howard D. Johnson Award
Claudia Koonz, Professor, Department of History
Award for Excellence in Teaching Writing
Jason Mahn, Mellon Fellow, University Writing Program
University Scholar/Teacher of the Year Award
Thomas Nechyba, Professor, Department of Economics
Robert B. Cox Award
Jan Riggsbee, Assistant Professor, Program in Education
Dean's Awards for Excellence in Mentoring: Faculty Award
Herbert Edelsbrunner, Professor, Computer Science and Mathematics
Susan Lozier, Professor, Nicholas School
Laurie Shannon, E. Blake Byrne Associate Professor, Department of English and Department of Theater Studies
Graduate Student Awards:
Dean's Award for Excellence in Teaching
Lisa Cavanaugh, Department of Business Administration
Marc Reibold, Department of Germanic Languages and Literature
Dean's Awards for Excellence in Mentoring
Lawrence Boyd, Graduate Research Assistant, Department of Biomedical Engineering
Adam Hartstone-Rose, Graduate student, Biological Anthropology & Anatomy
Kristina McDonald, Graduate Student, Department of Psychology & Neuroscience
His teaching style has earned him the 2007 Richard K. Lublin Award, one of four Trinity College Teaching Awards that recognize faculty for their abilities, knowledge and commitment to the process of inquiry and discovery.
His classes include courses on "Race, Racism, & Democracy," "Life in America: Identity and Everyday Experience" and "African American Intellectual History."
In his 10 years at Duke, Baker's teaching has inspired not only his students, but also his colleagues. Baker regularly invites prominent authors and cultural anthropology scholars to speak via videoconference, which has encouraged other professors to use technology in their classrooms. 
"We might still be in the Dark Ages if it weren't for Lee," cultural anthropology professor Orin Starn wrote in a nomination letter for Baker. "Baker's appropriation and rechanneling of digital connectivity here is brilliant."
Baker once considered a career at IBM, but he said teaching at the college level has proved rewarding.
"Personally, receiving this award means a lot to me because all of us spend so much time in the classroom, your peers and colleagues really never see you in the classroom and don't exactly know what you're teaching," Baker said.
Baker said he expects his students to work through difficult issues concerning race and history based on a body of knowledge, rather than on their own assumptions.
"You have to base your understanding on something. There are no right answers or easy solutions," Baker said. "Sometimes you have to choose between bad solutions with different repercussions."
Even while discussing abstract issues, he said he ensures "everyone feels empowered to speak."
Those efforts engage even the most quiet students in the class. This past year, Baker noted, Alfred Williams, a Duke football player who recently graduated, was often silent in class. But when the class discussion turned to whether Florida State's Native American mascot was appropriate, Williams, a Florida native, livened up. Baker assigned the class to write letters about the Seminole mascot to a Florida newspaper. Williams' was the only one published.
"It made my day," Baker said. "He wrote from his heart that he'd grown up in Florida and used to enjoy the mascot, but now he's questioning it for the first time. -- I tell them, 'Your ideas are important right now.'"
It's an attitude Baker learned from his own mentor, William Little, a professor of Africana studies at California State University, Dominguez Hills. Little encouraged Baker to get published as often as possible and told Baker that "young college students are real people with real ideas and agency right now."
Baker now works to push his students in the same way and hold them accountable, often becoming a mentor for his students, particularly young black men.
"I set a standard for the athletes ... They can't sit in the back. I call on them and make sure they engage in classroom participation," Baker said. "I've got all the athletic directors' phone numbers. I make it a priority in my class. I don't play."
What excites him most as a teacher is when former students accepted into graduate-level programs write to tell him how well-prepared they are because of the strength of the material covered in class.
Classroom discussions often are stimulated by current events.
"The lacrosse incident allowed us to talk about life in America, ideas of justice, liberty -- it proved to be a very challenging time," Baker said. "They were dealing with these issues anyway, so it informed the rest of the semester."
Nick Shungu, a 2006 Duke graduate who is currently studying in Ethiopia as a Hart Leadership Fellow, said Baker challenged him to experiment with unconventional ideas and the class allowed him to "blossom intellectually." He said it was a highlight of his Duke experience.
"I discovered my own voice as a writer and as an orator articulating my thoughts in discussion," Shungu wrote of Baker's class.