Chinese calligraphy is more than just writing. It's an art form, a kind of meditation — and it might even help you live longer.
People interested in an introduction to this ancient practice are welcome at a May 10 workshop at the Sarah P. Duke Gardens. Though it might seem removed from the gardening classes usually offered there, the workshop is one of several activities designed to educate the community about the countries whose plants are in the Asiatic Arboretum, says Alice Le Duc, director of education at Duke Gardens.
"We have a close tie with China and Japan through the plants," she says. "Hosting a class in Chinese calligraphy is just another component of the relationship between our garden and the culture of the country from which the plants are coming."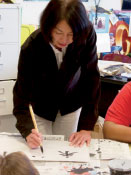 Alice Zhao paints a Chinese character meaning "forever."
Duke Gardens also offers classes in other Asian arts and sponsors a Japanese tea ceremony once a year.
The Chinese calligraphy class came about because longtime volunteer Lu Howard took the class from Alice Zhao in Chapel Hill last year. Howard enjoyed it so much that she suggested that Zhao present the workshop at Duke Gardens.
"She's a great teacher — very easy-going," Howard says. "Her class was very relaxing and a lot of fun."
Zhao grew up in the Hubei province in central China, where she learned Chinese calligraphy at school in a once-a-week art class. As a young adult, she attended a fine arts institute, where she focused on Chinese brush painting and calligraphy.
"Chinese brush painting and calligraphy are related to each other," Zhao says. "When you paint a painting, you have to write a calligraphy title, and the calligraphy itself is an individual art form."
Zhao has lived in Durham for 11 years; she began teaching Chinese brush painting and calligraphy three months after she arrived. "I enjoy teaching because I'm glad to see that Americans are so interested in Chinese culture," she says.
At the calligraphy workshop at Duke Gardens, participants will learn the basic brush strokes and how to put the strokes together to make characters. Zhao expects that she will teach 10 to 15 characters. Materials will be provided for use during the workshop.
"Most people don't understand that Chinese calligraphy takes a lot of practice," Zhao says. "You cannot write [the characters] perfectly in a few hours."
In China, it's commonly believed that people who practice calligraphy live longer, Zhao says.
"It's a very healthy moment," she says. "For beginners it's hard, but when you get a little familiar with it, it should be very relaxing. It's sort of like a meditation."