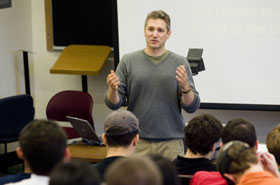 Working with statistics, said Duke faculty member Jerry Reiter, is like "being a detective who is finding an unknown truth."
"You have your data, math, computers, graphs and common sense," said Reiter, an assistant professor of statistics and decision sciences. "That's what makes it fun."
Reiter's ability to breathe life into a subject that many students dread is one reason why he has received this year's Alumni Distinguished Undergraduate Teaching Award. Although the Duke Alumni Association designed the award, it is the students who select the winner.
Jane Zhu, a senior, said Reiter considerably changed her outlook on statistics.
"I came into college all but convinced that statistics was a dry, lifeless subject," Zhu wrote in a letter nominating Reiter for the teaching award. "My former self would be surprised that four years later I consider statistics to be extremely innovative, stimulating and rewarding."
Honoring Teaching and Mentoring
Duke University this week honored faculty and students for excellence in teaching and mentoring in Trinity College and the Graduate School. Here is a list of award winners: The teaching awards recognize faculty and graduate students for their knowledge, ability to encourage intellectual excitement and to communicate that excitement to students.
The mentoring awards, sponsored by the Graduate School, underscore the importance of mentoring in education. This is the first year that graduate students were eligible for the mentoring awards.
Trinity College Distinguished Teaching Award Winners:
Richard L. Lublin Award
Lee Baker, Associate Professor, Cultural Anthropology
Dean's Distinguished Service Award
Alvin Crumbliss, Professor, Department of Chemistry
David and Janet Vaughan Brooks Award
Alexander Hartemink, Assistant Professor, Computer Science
Howard D. Johnson Award
Claudia Koonz, Professor, Department of History
Award for Excellence in Teaching Writing
Jason Mahn, Mellon Fellow, University Writing Program
University Scholar/Teacher of the Year Award
Thomas Nechyba, Professor, Department of Economics
Robert B. Cox Award
Jan Riggsbee, Assistant Professor, Program in Education
Dean's Awards for Excellence in Mentoring: Faculty Award
Herbert Edelsbrunner, Professor, Computer Science and Mathematics
Susan Lozier, Professor, Nicholas School
Laurie Shannon, E. Blake Byrne Associate Professor, Department of English and Department of Theater Studies
Graduate Student Awards:
Dean's Award for Excellence in Teaching
Lisa Cavanaugh, Department of Business Administration
Marc Reibold, Department of Germanic Languages and Literature
Dean's Awards for Excellence in Mentoring
Lawrence Boyd, Graduate Research Assistant, Department of Biomedical Engineering
Adam Hartstone-Rose, Graduate student, Biological Anthropology & Anatomy
Kristina McDonald, Graduate Student, Department of Psychology & Neuroscience
Reiter said he regularly uses real-world scenarios to demonstrate his point. For example, this semester he's had his students use statistics to analyze the Vietnam draft lottery, an abortion survey and DNA testing, to name a few.
He wants students to know why they should care about statistics.
"We analyze evidence," Reiter said, "but we don't shy away from discussions about these issues."
A serious baseball fan, Reiter often merges his interests in the game and statistics. An analysis he wrote about whether it made sense to intentionally walk home run king Barry Bonds was covered in more than three dozen major papers, including the New York Times and the San Francisco Chronicle.
The 120 students enrolled in "Statistics 103: Probability and Statistical Inference" clearly appreciate Reiter's ability and passion for discovering the unknown.
In a nominating letter, student Jordan Kyle wrote that Reiter possesses "energy, alacrity and goodness of heart.
"This professor, for me and for many other students, turned a subject I feared would be too hard for me into a class that I look forward to every week," Kyle said.
Reiter, who has taught at Duke for five years, said the fact he is a Duke graduate (1992) helps him figure out what material would be most interesting to his students. He also has a sense of "the rhythm and flow of the semester."
"It's extra motivation - -- I see myself where they are," he noted.
His own mentor, Duke math professor Robert Bryant, taught Reiter to let his passion for statistical research and teaching show in the classroom. Reiter calls it "embracing his inner geekiness."
At previous teaching appointments at Williams College and the University of California, Santa Barbara, Reiter gained confidence as he went from teaching a very small upper-level course to teaching 350 students in a movie theater.
"I really had to get out of my shell," he said. "I had to re-structure my lesson plans and really think about how to engage students."
Now, more comfortable in his role, Reiter said his focus is now less on teaching style and more on content.
Reiter also takes time to personally know his students, through extended office hours and an occasional lunch in the Great Hall.
"On the first day of class, Reiter introduced himself individually to all 120 students in the lecture - -- and he remembered our names," wrote Josh Parker in his nomination. "This professor makes a lecture feel like a seminar."