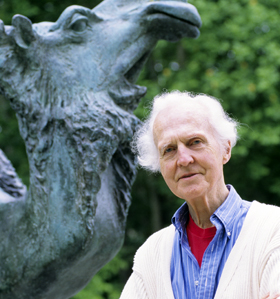 Knut Schmidt-Nielsen, 91, a retired professor of physiology at Duke University and internationally recognized authority on animal physiology, died in his sleep on Thursday, Jan. 25.
 Schmidt-Nielsen studied the physiology of animals living in extreme environments, especially camels in the desert and saltwater frogs, to learn how they coped with hardships that would kill other animals. In 1998, he published a memoir titled "The Camel's Nose: Memoirs of a Curious Scientist."
 "I have always been curious," Schmidt-Nielsen said in a 1997 interview. "More than anything else, I have wondered how animals meet the challenges of their environment, how they adapt to life in the sea and on dry land."
 "He was in inspiration to me," said Sonke Johnsen, an assistant professor of biology at Duke who still uses Schmidt-Nielsen's physiology textbook in his classes. "I admired the adventurousness of his science: living with Bedouins in a tent in the Sahara."
 Schmidt-Nielsen even prevailed upon the Duke biology department to build a "camel room" in the sub-basement of the Biological Sciences Building which featured a 10-foot-high door and stainless steel walls, but it was never used for research.
 To current members of the Duke community, Schmidt-Nielsen is perhaps most familiar as the man who stands contemplating a life-size camel in a bronze sculpture "Scientist and Nature" that stands next to Science Drive between the Biological Sciences Building and the Gross Chemistry Building. The work, dedicated in July 1996, was commissioned by Schmidt-Nielsen's friend and colleague, Stephen A. Wainwright, James B, Duke Professor of Zoology emeritus, and his wife Ruth.
Schmidt-Nielsen was born in Trondheim, Norway, in 1915 and became a U.S. citizen in 1952. Educated in Oslo and Copenhagen, he spent two postdoctoral years at Swarthmore College, a year at Stanford University and three at the University of Cincinnati College of Medicine before coming to Duke in 1952. He published 270 scientific papers and five books that were translated into 16 languages. He also received numerous awards, including the International Prize for Biology, the Japanese equivalent to the Nobel Prize in the biological sciences.
"At times, I wonder what made me a physiologist and not an engineer or carpenter or physician," he said in 1997. "I could probably have done reasonably well in any of those fields -- about carpentry, I feel certain. I was always curious about animals, and because my father permitted me to choose my own ways, I have enjoyed the excitement of a life spent discovering how animals work.
"I have just never stopped asking questions," he said.