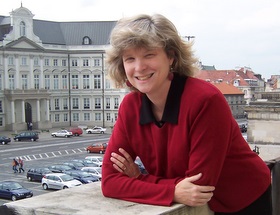 Beth Holmgren, a professor of Russian and Polish literatures, has a story to tell about a 19th-century Polish actress who came to the United States and rose to the highest levels of American theater.
To this day, several theaters in America bear Helena Modjeska's name. Her home in California, dubbed "Arden" after the forest in Shakespeare's As You Like It, is a national heritage site. A sweet caramel "Modjeska" candy is still made in Kentucky. Susan Sontag's National Book Award-winning novel In America is based largely on the Polish actress's experiences. And a motion picture based, in turn, on Sontag's book and starring Isabelle Huppert, is in production.
The life of Modjeska, as Holmgren interprets it in her current book project, is significant for understanding the changing role of women entering the 20th century, the engagement of immigrants in American culture, and shared perceptions of the role of high culture in nineteenth-century Poland and America.
Helena Modjeska in a 1878 production in New York of The Lady of the Camellias.
Holmgren comes to Duke this year after 13 years at UNC-Chapel Hill, with six authored or edited books to her name and two stints as chair of the UNC Department of Slavic Languages and Literatures. She was recently elected vice-president/president elect of the American Association for the Advancement of Slavic Studies, the largest organization of American specialists in Slavic studies, with her presidency beginning in 2008.
She began her career studying Russian culture and literature as an undergraduate at Grinnell College. Her interests broadened to include Polish literature and culture and the social context of Slavic cultures during her graduate work at Harvard.
In joining Duke's Department of Slavic and Eurasian Studies, Holmgren was praised as "one of the leading specialists in the United States today who works in Russian and Polish comparative literatures and cultures" by Professor Edna Andrews who was chair of the department when she was hired.
Holmgren looks forward to introducing to the department courses in topics such as Polish film, the Slavic immigrant experience in the West and popular culture in Russia and in Poland. Outside of work, Holmgren is a wife and mother of a 12-year-old daughter, and sings in the local world music band Mappamundi.
The life of the actress Modjeska ties together many of Holmgren's research interests -- in women's studies, diaspora culture, and relations between culture and the market. This topic presented itself after a knock on her office door on a quiet Saturday afternoon at the University of California, San Diego, where she was then an assistant professor.
"It was this fellow who wanted to raise money for a project he was going to do in the Modjeska Canyon in Orange County," Holmgren said. The man wanted to build a bridge in the style of Ralph Modjeski, Helena Modjeska's son and an accomplished engineer, on the site of Helena's former estate in Orange County, Calif.
Holmgren recognized Modjeska's name from her graduate studies but wasn't convinced by the man selling the bridge. "It was really a crackpot idea, but it was intriguing that there was this connection to Modjeska."
Modjeska had arrived in Anaheim, Calif., about 120 years earlier. After having achieved great dramatic acclaim in Poland in the second half of the 19th century, she and her aristocratic husband had decided to try farming in California. They quickly went broke.
"At that point she begins to learn English very quickly," Holmgren said. "She goes to San Francisco in about two months time and arranges for an audition. She has her first performance after seven months, learning three parts in English -- that's the extent of her English -- but she knows the parts by heart and she performs, and she's a hit.
"Thereafter she makes a career in the United States, traveling back and forth by railroad car across the country in the 1870s-80s-90s, and she became a star of the American stage for 30 years," Holmgren said.
"What I find particularly fascinating about her is that she also established herself as a kind of social force, as a public citizen," Holmgren said. "She maintained all sorts of charities in Poland. In the meantime, she was establishing herself in the United States as part of the intelligentsia.
"Her entire life turned out to be an act of cultural diplomacy; she was educating in both directions," Holmgren said. "It's an amazing act; for 30 years she pulled it off."