Creating the Beloved Community
Joe Harvard has spent decades helping to build better relations across Durham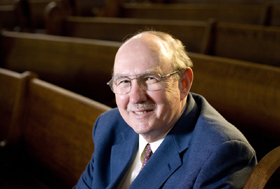 The Rev. Joe Harvard, pastor of Durham's First Presbyterian Church for the past 27 years, is being recognized with the annual Samuel DuBois Cook Award for his work to improve race relations in the greater Durham area.
Harvard will be honored during the annual Samuel DuBois Cook Society dinner Feb. 27 at the Washington Duke Inn. Named for the first African-American faculty member at Duke University, the society was founded in 1997 to recognize and celebrate African-American presence at Duke.
"Joe Harvard rises to the occasion every time," said Myrna Adams, founding member of the Cook Society and the former vice president for institutional equity at Duke. "That visibility, that commitment, is something that most people in the city know of. That's the way we know Joe."
Cook Society Dinner
The Samuel DuBois Cook Society was founded in the spring of 1997 to honor the years of service that Cook, the first African-American member of the faculty, has offered to Duke University, to the cause of African American Advancement, and to the betterment of relations between persons of all backgrounds.
Every February, the society meets to honor members of the Duke and local community for furthering its goals. This year's dinner, where Harvard will receive his award, will be held at 5:15 p.m. Tuesday, Feb. 27, at the Washington Duke Inn. For more information about the event, click here.
Harvard reacted the way most who know him could have predicted -- with humility.
"I'm not sure we deserve it, and we are very humbled by this," he said. "You do what you do because you believe it is the right thing to do."
But Harvard acknowledged that First Presbyterian Church, located in the heart of downtown Durham, has been a "positive catalyst" for race relations in the area.
For most of his 27 years here, Harvard has been a member of a faith-based quartet of sorts in Durham, working with Rabbi John Friedman of the Judea Reform Congregation, Bishop Elroy Lewis of Fisher Memorial United Holy Church and Imam Abdul Waheed of the Muslim Society of America to help Durham residents build what Martin Luther King called "the beloved community," a society where discrimination, hunger, homelessness and poverty do not exist.
At various times in the history of the country and of Durham, Harvard and First Presbyterian have been leaders in offering peaceful ways to discuss and resolve racial conflict. During the 1992 Los Angeles riots, the O.J. Simpson trial and, most recently, the Duke lacrosse case, First Presbyterian and other churches have held meetings and conferences to discuss race relations, equality in public education, domestic violence and other issues affecting the community.
Harvard said that faith communities must step forward when they are needed to offer moral and faith-based leadership.
"We have a responsibility for the quality of life and the community in which we live. We have a call to create the beloved community," he said.
Harvard said that in his years at First Presbyterian, he has watched racism in North Carolina dwindle to the point where outspoken racists are nothing but a novelty -- a "strange phenomenon."
However, he said, prejudice remains as an insidious presence.
"The color line still exists, unfortunately," he said. "There's a subtle aspect that most of us don't notice." For example, most black people have experienced the distrusting and watchful eye of a store clerk as they shop, he said, noting there are a myriad of ways that blacks are treated differently because of their skin color.
Further, the historic impact of racism still lingers today, Harvard said. "There is a disproportionate number of people of color who still live in poverty and who are involved in the criminal justice system."
So while real progress has been made, "there's still a division that we need to be constantly aware of," he said.
"The real challenge is to build a community that talks to each other and knows each other, community members that have relationships across the color line, people that interact with each other as human beings.
"Until we can tell each other our stories, we don't really gain any ability to understand each other. That sense of understanding is what builds bridges."