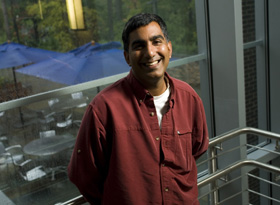 Mitu Gulati is known in legal circles for the creativity and breadth of his scholarship; in fact, one catalogue of recent moves by law professors offered the designation "Renaissance man" in place of a specialty.
Gulati, who joined the Duke Law faculty in July from Georgetown, ducks the accolade, saying that his scholarship, which addresses such diverse issues as employment discrimination, critical race theory, corporate law and international sovereign debt, simply reflects his interests.
"That's what's great about the job," he said.
His colleagues are less reserved about what he brings to Duke.
"His studies of employment discrimination in large law firms have shaped a decade of critical, empirical and theoretical scholarship about discrimination in the elite professions," said Professor Catherine Fisk. "He collaborates with an enormous number of people across a wide variety of subject matters, brings together diverse people and ideas, and mentors students and junior scholars in a number of areas.
"Both intellectually and personally, he brings out the best in everyone with whom he works. He is so productive in so many areas that one wonders whether there are really two or three Mitus behind so much superlative work."
Adds Brainerd Currie Professor of Law James, "Mitu's interests are like his intellect, wide-ranging and bent on challenging conventions.
Additional Reading
"In one of the areas of my interest, securities regulation, Mitu is the leading scholar on sovereign debt, such as today's debate regarding how to discourage lending to tyrants who when in power raid their country's treasury of the funds obtained through international borrowing. What is particularly distinctive about Mitu is the extensive ties he has to practitioners who help him bridge the distance from the heights of our ivory tower to the ground."
Gulati solidified his interest in the issue of sovereign debt -- the financial liabilities owed by a government -- as a first-year associate at Cleary, Gottlieb, Steen & Hamilton following his graduation from Harvard Law School.
"There was a pro bono project for Tanzania," Gulati said. "They couldn't pay back their debt and were trying to devise some scheme where they would issue equity interests in state-owned enterprises in exchange for people forgiving their debt. I was responsible for thinking about some of these things."
He had, in fact, been thinking of such things for years. His father, an economist in India, specialized in international finance. "I grew up around conversations about debt problems, sustainability and the IMF (International Monetary Fund), North-South dialogue, and things like that," Gulati said. "In the U.S. there is very little awareness about global debt problems, but the rest of the world has been talking about it for decades."
His work in this field led to collaborations with Cleary partner Lee Buccheit, who currently represents the Iraqi government in its debt restructuring; Buccheit will co-teach with Gulati a short course on "Law, Ethics, and International Finance" in the coming academic year.
Most recently, the two have collaborated on scholarship relating to sovereign bonds and questions of "odious debts," those collected by previous "odious" governments, often through corruption or nefarious means.
Some commentators suggest that states should have the right to completely repudiate debts incurred by these regimes. But Gulati and Buccheit argue, in a forthcoming article written with Robert Thompson of Vanderbilt Law School, in favor of independent scrutiny of each contractual debt.
"Often if you fail to pay one creditor, it causes a default on everybody's debt," Gulati said. "I want a court to declare a debt illegitimate, so that neither the reputational sanction nor the contractual secondary effects from non-payment apply. South Africa could probably say, 'Look, we just won't pay any of the arms debt that the previous apartheid regime incurred.' Yet they don't.
"But if there was a system whereby they could pay the debts that were incurred to build basic infrastructure, but not those that were used to buy arms used to shoot at [black South Africans], if there is a way that courts could say a debt is not valid under the basic principles of contract law, maybe the creditor community would say that seems fine."
In 2003, Gulati and Professor Stephen Choi of Boalt Hall generated enormous response when they proposed a "tournament of judges" for filling Supreme Court vacancies. The partisan bickering that has overtaken the appointment process could be circumvented, they argued, by looking at objective, empirical criteria such as opinion publication rates, dissent rates, reversal rates and rates of citations by academics, appellate courts and the Supreme Court.
"There is so much data on these people -- they have often been judges for two or three decades," Gulati said. "The data can't give you a full picture, but it can give you an idea of whether someone is being lazy or not. It can lead you to ask more questions [about a jurist's performance]."
And such an exercise would render transparent political motivations behind appointments of less objectively "qualified" judges, he added.