Biography of Duke Lemur Center Director Anne D. Yoder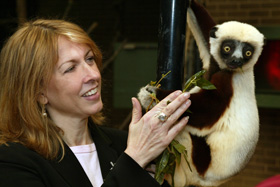 Anne D. Yoder became director of the Duke Lemur Center on Jan. 1, 2006. In addition to guiding the center's traditional work in lemur conservation and behavioral research, Yoder wants to cement its role as an integral part of Duke's interdisciplinary research mission.
Yoder first encountered the center more than 25 years ago, when as an undergraduate at the University of North Carolina-Chapel Hill she took a class trip to what was then called the Duke Primate Center. "It just blew my mind," Yoder recalls. "It changed everything. I suddenly had a focus in my studies. I started doing behavioral studies at the center, and it set the tone for the rest of my career."
Yoder got her B.A. in zoology from UNC and continued her studies at Duke University Medical Center, where she earned her doctorate in anatomy in 1992. She served as a postdoctoral fellow at Harvard University and began her academic career as an assistant professor of cell and molecular biology at Northwestern University Medical School. After being a research associate for the Field Museum of Natural History in Chicago, she joined Yale University's faculty as an associate professor in 2001, where she also served as associate curator of mammals at the Peabody Museum.
Yoder has received numerous National Science Foundation and L. S. B. Leakey Foundation grants for her research. Those studies have concentrated on the genetics and evolution of mammals, especially lemurs, and on the biodiversity and "biogeography" -- the study of the geographic distribution of species -- of Madagascar, the large island east of Africa that is the natural home of lemurs. She is also the recipient of a Biodiversity Leadership Award from the Bay and Paul Foundations, in recognition of her training program for Malagasy scholars and conservation biologists.
As director of the Duke Lemur Center, Yoder says she wants to strengthen already close ties with Duke's Department of Biological Anthropology and Anatomy and strengthen research and educational relationships with the Nicholas School of the Environment and Earth Sciences, the Institute for Genome Sciences & Policy (IGSP) and other parts of Duke. One project in the works is a collaborative project involving the Duke Lemur Center and the IGSP to study genome evolution and function in lemurs and beyond.
Duke Provost Peter Lange's confidence in Yoder and her vision for the Duke Lemur Center has prompted him to increase Duke's ongoing investment in the center's complementary missions of research, education and conservation.
Yoder joined Duke's faculty last August. She succeeds as Duke Lemur Center director William Hylander, a professor of biological anthropology and anatomy who had held that position since 2001.