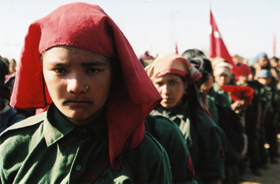 Julie Bridgham moved fast when she received a long-awaited offer to film Maoist insurgents in Nepal, footage she will show at Duke on Monday, April 10, as part of a three-day series that seeks to raise awareness of a bloody conflict that has received little coverage in the West.
"I was in New York, raising funds and editing film, when our crew called from Kathmandu. It was crazy short-minute notice. I got the news on a Thursday and was on the plane Saturday," she said.
Days later, Bridgham, an independent producer and director, was in a remote Himalayan region filming women who have joined the rebel forces that control much of Nepal's countryside.
"There's a distinct sense of empowerment they feel as women being armed. Many see it as an opportunity to have some kind of power," said Bridgham, who worked for the Travel Channel and the BBC before moving five years ago to Nepal, where she has lived on and off, making films amid a deteriorating political situation.
Bridgham is coming to Duke to show footage from "Sari Soldiers: Women on the Frontline in Nepal," her film about six women who have responded to Nepal's conflict in different ways. Others profiled in the film include an officer in Nepal's army, the mother of a "disappeared" daughter and a human rights attorney.
Bridgham also will participate in a discussion with other panelists -- an author, a journalist and a performance artist -- whose work is being featured during the series on the political and human rights challenges facing Nepal. The Duke Human Rights Initiative and other organizations are sponsoring the events.
Human rights groups have documented extensive abuses by both the insurgents and government forces supporting King Gyanendra, who assumed power in 2001 after the previous king and most of the royal family were murdered by the crown prince. "Ten years of war and political instability have turned the human rights situation in Nepal into one of the worst in the world," Amnesty International reported in February.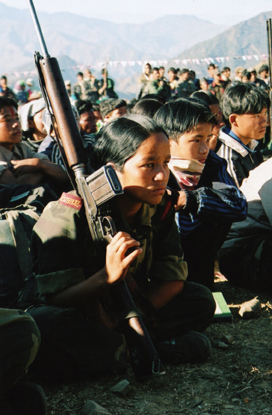 Photo courtesy Julie Bridgham
Bridgham concurs. "Due to the breakdown in democracy and human rights, there is a huge crisis at hand," she said. She hopes her new film, intended for film festivals and television audiences, will help viewers "understand the complexities of the conflict."
Author Manjushree Thapa, who will participate in the panel and discuss her own work the following evening, said the conflict is forcing outsiders to view Nepal more clearly. "For those of us who were sick of being portrayed as Shangrila, or having the Maoist insurgency or our political meltdown portrayed as 'trouble in Shangrila,' it was very gratifying," she said. "It was like some critical mass of Orientalism had been bypassed, and suddenly the world could see Nepal for what it was, a Third World democracy struggling turbulently for survival."
Thapa said she hopes her presentation at Duke will show Nepal's "political complexity in non-Orientalist, realistic terms. I'd want people to go away with an interest in finding out more about our less picturesque realities."
Daniel Lak, who covered the royal murders as a BBC correspondent in Kathmandu, describes the country as "a pre-modern state where control of access remains a hugely profitable thing. The old power elites still control the import of petroleum, cars and other products."
Nepal's young people are increasingly dissatisfied, said Lak, who will participate in the panel and speak the following afternoon about the media's role in the conflict. "The young of Nepal are accessing the web and television and all the other ways we have to communicate. ! Access is slipping slowly but surely away from the elites. Even, it can be argued, the Maoism that fuels the rebellion in the countryside is an import that the elite cannot control. It's an example, if you will, of a form of globalization."
The series of events are:
Sunday, April 9, at 2 p.m., White Lecture Hall, East Campus. Nepalese performance artist Ashmina Ranjit presents "Tamas: The Darkness."
Monday, April 10, at 7 p.m. White Lecture Hall. Julie Bridgham screens work-in-progress of "Sari Soldiers: Women on the Frontline in Nepal," followed by a panel discussion.
Tuesday, April 11, at noon, 240 Franklin Center. BBC correspondent Daniel Lak discusses the media's role in Nepal.
Tuesday, April 11, at 6:30 p.m., Rare Book Room, Perkins Library. Writer Manjushree Thapa discusses her work in support of women's rights and social justice.