Professors Tend to Teaching
Award-winning instructors give "Ten Teaching Tips" for colleagues to consider.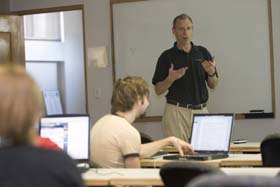 A group of Duke faculty and staff are promoting excellence in teaching with public talks, weekly meetings and research projects.
The Consortium for Scholarship on Teaching and Learning (CoSTL) has been meeting for two years, drawing participants from longer-running informal discussion groups within departments. CoSTL participants, about 25 each week, are mostly math and science faculty with "professor of the practice" titles, who are responsible for teaching but not research. Their research, they say, is on how best to teach undergraduates.
This semester, CoSTL (pronounced "coastal") is sponsoring a series of events, including a workshop on Thursday, March 23, on "A Practical Approach for Designing Effective and Innovative Courses."
"There's a ground swell of interest to get Duke to elevate the status of looking at, and evaluating, teaching," said Ahrash Bissell, a program coordinator in the Academic Resource Center and one of the CoSTL organizers. "The vast majority of the faculty we talked to would be thrilled to have some kind of support" for their teaching.
Events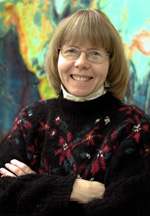 Barbara Tewksbury will lead a workshop on Thursday, March 23, 9:30 a.m. - 12:30 p.m, on A Practical Approach for Designing Effective and Innovative Courses; location tba. Other instructional events include:
* Strategies for Creating Engaging and Effective Interdisciplinary Courses; March 23-24; opening session March 23, 3:30 - 4:30 p.m.; Biological Sciences 111
* Consortium for Scholarship on Teaching and Learning meetings; Mondays; 11:45 a.m. - 1 p.m.; Old Chemistry 101
At a recent CoSTL meeting, Susan Rodger, an associate professor of the practice in computer science, said through the group she learned how the Institutional Review Board process for research on human subjects applied to evaluating students' success with software she created to visually represent computer science concepts.
"Even though we're in different disciplines we can share information," she said about exchanges among CoSTL members.
Cary Moskovitz leads the Writing in the Disciplines program and won an alumni teaching award in 2003. He said discussions at CoSTL helped him draft a document "Building on Writing 20," which explains to professors teaching upperclassmen how they can build on concepts and skills taught to freshman in Writing 20 courses.
Moskovitz said the document addresses the pedagogical question of "transfer" -- "How do you get students to take what they learned in one class and realize it can be applied in other classes?"
CoSTL discussions contributed to another paper on teaching. Bissell and another CoSTL organizer, Paula Lemons, had a paper published in the January 2006 issue of BioScience on "A New Method for Assessing Critical Thinking in the Classroom." In it, they outline how instructors of introductory biology courses can write exam questions that assess, distinctly, students' mastery of content and reasoning ability.
"Using this methodology has clarified the course goals (for us and the students), improved student metacognition, and exposed student misconceptions about course content," they wrote.
Another CoSTL participant, Sherryl Broverman, presented to the group on how she teaches scientific material in the context of contemporary social issues. In her course "AIDS and Other Emerging Diseases," Broverman, an assistant professor of the practice in biology, asked students to correspond by email with students in a sister class in Kenya before writing a paper on the political controversy surrounding AIDS.
Broverman, who won a teaching award last year, said CoSTL has filled a need for education researchers to come together to share ideas, discuss journal articles and organize conferences.
"Everyone involved in an intellectual endeavor wants to have a community," she said.
Jeffrey Forbes, an assistant professor of the practice in computer science, said Broverman's presentation gave him ideas for relating programming lessons to current debates about copyright.
Ten Teaching Tips
1. Don't just cover material, create competencies. Hamilton College professor Barbara Tewksbury, who will be leading a March 23 teaching workshop at Duke, gives the example of her introductory geoscience course: "Rather than just filling [students] up with hazards and disasters, you give them the skills to evaluate the hazards."
2. A well-planned course is like a choose-your-own-adventure novel. "I'm actually trying to set up a number of possible narratives that could come out of the course," says Professor Peter McIsaac, who teaches German literature and culture and won a teaching award last year. "But, I want to leave some room for students to help craft the narrative."
3. Teaching is part of the process of scholarship. "I learn a heck of a lot from students' questions," says Professor Stephen Nowicki, dean of natural sciences. "Every once in a while you get a question that shows that they are really seeing something different and that's part of knowledge generation."
4. Increase students' awareness of how they approach problems. For a single chemistry problem, Professor Richard MacPhail will ask students: What is the question asking? What are you given? What's your plan for solving the problem? What concepts did you need to use to solve it? How could you manipulate it to produce a related problem?
5. "Don't teach for the test; teach for life." Professor Sherryl Broverman, who won an award for teaching biology, puts science lessons in the context of current events. "Women and minorities, people who typically have high attrition, are more likely to stay in science if they can see a social application," she said.
6. Push students to diagnose their learning difficulties. "A lot of students want to come to office hours and say, 'I don't get this, please explain,' and that's not effective, either for the faculty or for the students," says Donna Hall, director of the Academic Resource Center. "We're really trying to get students to self-assess their difficulties."
7. Focus on fundamentals. "If you don't know the alphabet, you're not going to be able to read," says Professor Owen Astrachan, a teaching award winner. In one of his computer science courses, he let struggling students take the first test again and again until they mastered the fundamentals it covered. "This is about learning, not the material I am going to cover," he said.
8. Tell students what teaching method you use and why. To explain why he uses real-world problems to teach math, Professor Jack Bookman says, "I hold up a calculator in class and say, 'If all you can do is these computations, you can be replaced. I want you to think more deeply.'"
9. See the class through students' eyes. When she trains graduate and undergraduate students to teach science to K-8 students, Glenda Kelly, a research associate in electrical and computer engineering, has found that her students "overwhelmingly rated the most beneficial part of their training as the hands-on activities in which they were placed in the role of the elementary and middle school students." She said, "They learn to put kids in that situation by actually going through it themselves."
10. Center classes around students, not the teacher. "The focus is often on what you do as the teacher; the shift in perspective is to focus on what the students will do," says Doug James, program director of academic support programs in The Graduate School, who organizes the Teaching Instructional Development for Excellence And Success workshops. "Teaching is creating situations in which appropriate learning occurs."
He said CoSTL helps him think critically about his teaching. "Surprisingly, even though we're scientists, we're really un-scientific about teaching and learning sometimes," he said.
Novel approaches to teaching can be exciting, but instructors acknowledged changes in classroom methods sometimes meet resistance.
Richard MacPhail, an associate professor of chemistry, said he has received positive responses from students and teaching assistants to changes he made this year to his general chemistry recitations sections, which emphasize awareness of the problem-solving process. However, he said he witnessed an attempt five years ago to overhaul a general chemistry course that was abandoned.
"A small group of student in the course thrived in [the revamped class] and really loved it; a lot of students felt like they didn't make contact with the basics the way they wanted to or were used to," he said. "It was an attempt at a revolution and we end up with an evolution."
The math department experimented with changes in its introductory calculus courses in the early 1990s with the goal of increasing student proficiency in solving problems that involve graphical representations and analysis of real-world data.
Jack Bookman, an associate professor of the practice who evaluated the results of the changes, said, "It was controversial because students don't like change."
Students who took the reformed course "were much better problem solvers, and we have a lot of evidence of that," but weren't quite as strong in traditional equation manipulation, he said.
The department ended up keeping some components of the course and discarding others, he said. "As in most things, over time things moved towards the middle."
Some members of CoSTL would like to see more institutional support for their efforts.
Two years ago, the university's Center for Teaching, Learning and Writing was disbanded, with pieces of its mandate going to the University Writing Program, The Graduate School and the Center for Instructional Technology (CIT). Currently, part of a fulltime position in CIT is devoted to supporting teaching and learning activities, including CoSTL's.
"If you look at our peer institutions and say how many have centers for teaching and learning -- it's a lot," said Owen Astrachan, a professor of the practice in computer science and the winner of a 2002 teaching award. (A look at websites of peer universities showed eight of ten have such centers.)
He said one way the university could promote better instruction would be to have faculty evaluate one another's teaching. The current student course evaluations "don't measure learning," he said. "They measure student perception of the course one week before it ends."
Stephen Nowicki, dean of natural sciences and a professor of biology, psychology and neurobiology, said administrators are looking to faculty members for fresh ideas about improving teaching and learning.
"The importance of undergraduate education is emerging in both the A&S strategic plan and the university strategic plan," he said. "Whether that's going to translate into a center for teaching and learning, I don't know."
He acknowledged that working for a research university administrators "can't just say teaching matters as much as research because that would be disingenuous."
However, he said doing reputable research does not preclude teaching well.
"I was told when you win a teaching award before you get tenure, it's the kiss of death," he said. "But I did and I got it."