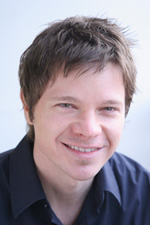 Trevor Schoonmaker has been appointed the first curator of contemporary art at the Nasher Museum of Art at Duke University, museum director Kimerly Rorschach announced Monday.
The Nasher Museum of Art is a major new arts center on Duke's campus that serves the university, Research Triangle area and surrounding region with exhibitions and educational programs.
Schoonmaker is returning to his home state of North Carolina after curating major contemporary art exhibitions in New York and around the world over the past six years. At the Nasher Museum, he will organize new exhibitions and programs and take a leading role in selecting works of contemporary art for the museum's permanent collection. Schoonmaker will begin his position in July, and he will organize his first contemporary art exhibition at the museum next winter.
"Trevor brings extensive experience in organizing major exhibitions in all contemporary media, and he possesses a great eye for emerging artists and art forms," Rorschach said. "I am excited about his specialty in contemporary African and African-American art and his knowledge of global contemporary music."
Schoonmaker comes to the museum from New York, where he is co-founder and co-director of the emerging Brooklyn Institute of Contemporary Art. He is co-curator of "The Beautiful Game: Contemporary Art and Fºtbol," an international exhibition that examines the art form of soccer and themes of identity, nationalism, confrontation, mass spectacle, body and globalism. The show will be hosted by Roebling Hall Galleries and the Brooklyn Academy of Music in New York from June 8 through July 22.
Schoonmaker made his mark in the contemporary art world with "Black President: The Art and Legacy of Fela Anikulapo-Kuti," an exhibition at the New Museum of Contemporary Art in New York in 2003 that explored the influence of the Nigerian Afrobeat musician and activist Fela Kuti. The show traveled to San Francisco, London and Cincinnati. Through the accompanying "Fela Project," Schoonmaker organized an international group of 34 artists, 20 writers and 17 photographers to participate in the exhibition and its accompanying programming. He published an anthology of writings about Fela in addition to the exhibition catalogue, organized educational programs around the exhibition and helped attract new audiences to the New Museum.
Last year, Schoonmaker won the prestigious Fund for Arts Research Award from the American Center Foundation, for curatorial research and travel abroad.
Last summer, Schoonmaker co-organized "Living for the City," a contemporary show at Jack Shainman Gallery in New York. The 16-artist exhibition, which explores global urbanism and displacement, was also on view at the Centre International d'exposition de Larouche in Canada from October through January.
Schoonmaker's other recent exhibitions include last year's "Propeller," the first annual show introducing seven of the country's most promising early-career artists at Steve Turner Gallery in Los Angeles. He also organized "D Troit," an exhibition of 10 artists who explored the city of Detroit through art, popular culture and music, on view at Gigantic ArtSpace in New York and Urbis in Manchester, England in 2004. Other shows organized by Schoonmaker include "Amigos," with 14 underrepresented artists in a raw, temporary space on New York's Lower East Side in 2003; "Looking In," a 23 artist, site-specific public art project for the Lower Manhattan Cultural Council, and "The Magic City," a group show that examined cultural politics through a fantastical lens at Brent Sikkema, New York in 2000.
"I'm thrilled to join the NasherMuseum in its inaugural year," Schoonmaker said. "This is a unique opportunity to help shape the museum's focus in modern and contemporary art and place the Nasher in the global contemporary art discussion."
Schoonmaker holds a bachelor's degree in art history from the University of North Carolina at Chapel Hill and a master's degree in art history from the University of Michigan. He also studied at the Institute Catholique in Paris and the Goethe Institute in Germany.