Rocking With the Rolling Stones
Behind the scenes, Duke employees worked hard to make a successful concert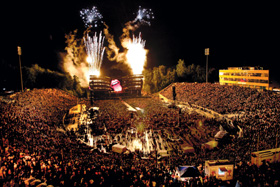 While fans were cheering the Rolling Stones at Wallace Wade Stadium Saturday, dozens of Duke staffers were scurrying behind the scenes.
           Interim police director Robert Dean, for instance, was ensuring lights were turned on far beyond the stadium. "I was concerned about the safety of our students, because a crowd of this size can draw criminals as well," he said. "Our plan addressed not only the concert-goers but those who might come looking to commit crime. We assigned additional officers to West Campus, turned on lights and swept the campus after the concert was over."
Joe Jackson, Duke's assistant director for grounds and sanitation, worried about the grass under the stage and 7,000 folding chairs. "We had several meetings with their stage people," he said. "The Stones' folks placed a material called Terraplas on the turf. It's a hard, perforated plastic system that allows grass to breathe, and there was a tarp and plywood to protect the running track. All of this reduced the potential for damage. Things are looking good, but I haven't uncrossed my fingers yet."
From creating a website with parking information to coordinating the needs of visiting journalists, Duke officials spent months planning for the first concert at Wallace Wade since a 1970 show featuring the Grateful Dead. Teams even traveled to Charlottesville to learn how the University of Virginia prepared for a Stones' show two days before the Duke concert. The result was what executive vice president Tallman Trask III called "the best concert I've been to in 20 years."
Titled "A Bigger Bang," the tour selected Duke after canceling a planned date in Atlantic City. "[Athletic director] Joe Alleva and Dr. Trask were contacted last June by the promoter, Cellar Door Concerts," said associate athletics director Mitch Moser. "They came out and did a site survey, and they liked Wade Stadium immediately. While football season is not the ideal time, Coach [Ted] Roof was supportive because it was a great event for the university and the community."
Seventy trucks and an army of workers descended on Duke after its Oct. 1 football game with Navy, erecting a 7-story stage with flashing lights, video screens and fireworks.
On Saturday, shortly after the stage was completed, more than 35,000 fans that included students, employees and alumni who bought discounted tickets began setting up tailgate parties and buying concert merchandise. Most arrived without delay before an opening performance by Trey Anastasio.
"We had more than 50 shuttles including buses from DATA and private bus companies that we leased to supplement our fleet," said Cathy Reeve, Duke's director of parking and transportation.
Some criticisms were heard concerning shuttle delays following the concert, including for some handicapped visitors. "We anticipated exiting would hold more confusion since everyone would want to leave at the same time and it would be dark," Reeve said. "For about the first 15 minutes, there was some confusion until the shuttles got their rhythm. After people began understanding which bus would take them back to their parking, things ran more smoothly. We were still able to shuttle everyone back to their parking within two hours, which was our goal."
Although the parking complexities were most visible, the concert as a whole presented what Dean called "a tremendous challenge for Duke Police and all the other members of the command post. Everyone, including the Durham police, EMS and fire department, and the state highway patrol, responded professionally." Moser agreed: "From Duke Police to parking and transportation, groundskeeping and the athletic event staff, it was a great effort by a lot of people."
Nearly a week later, the stage is gone and life has largely returned to normal on the campus. "I approached this assignment with reserved enthusiasm," Jackson said, "but it turned out to be a wonderful experience. Now, it's time to get ready for a football game."
Memories of Duke's moment in the rock-and-roll spotlight are likely to linger. "My blue 'Sympathy for the Devil' T-shirt, which they made especially for the Duke concert, is already a classic," Trask said.