Anne Yoder Named Duke Primate Center Director
Yoder's research has concentrated on the genetics and evolution of mammals, especially lemurs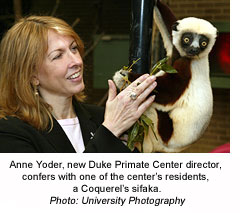 A Yale University biologist whose scientific career was first inspired by a student tour of the Duke University Primate Center has been named the center's new director. Anne Yoder, a Yale associate professor of ecology and evolutionary biology, will join the Duke faculty Aug. 1, 2005 and assume the directorship Jan. 1, 2006.
Yoder succeeds William Hylander, a professor of biological anthropology and anatomy who since 2001 has served as director of the world's only research and education center devoted to prosimians. The Duke center has the world's largest collection of endangered primates.
According to Provost Peter Lange, the university's chief academic officer, Yoder's appointment represents the next and most significant step in the renewal of Duke's commitment to enhancing the Primate Center's complementary missions of research, teaching and conservation.
"Anne Yoder is a talented researcher and dynamic educator who will bring strong leadership to both the scientific and education missions of the center, as well as to its conservation programs and community service efforts," Lange said.
"The Primate Center's colony of endangered prosimians constitutes a precious scientific resource," Lange said. "The center must continue to play an important role in conservation while also becoming a leader in 21st century studies of these extraordinary animals, which present fascinating scientific questions and opportunities in the study of evolution, genomics and behavior. Under Anne's leadership, these questions will be creatively addressed by researchers from across Duke and elsewhere, while also offering students an unparalleled educational opportunity."
Lange noted that Yoder's appointment builds on a review of the center's operation to determine how it could be better integrated into the overall missions of the university. Completed during Hylander's appointment, the review has led Duke to commit significant new resources to maintaining and upgrading the center's facilities. Lange praised Hylander for "enhancing the research and education missions of the center during the past several years while sustaining its long-standing commitment to conservation and providing a smooth transition for an outstanding new leader to guide the center in the future."
Said Yoder, "The Duke Primate Center is unique because it is the only colony of lemurs in the world where the education and research missions have been integrated so consistently with each other and with conservation. I am thrilled to be at Duke at this special time in its history, with such an opportunity to help realize the potential of the center as an integral part of the university's research mission."
Yoder cited, for example, the center's value in studies of evolution. "Lemurs and their close relatives are a part of the primate family tree that for the most part has been ignored in trying to understand humans' place in nature," she said. "Madagascar, where lemurs evolved, is probably the most productive and exquisite natural evolutionary laboratory on the planet. And lemurs are the crown jewels of the evolutionary process there."
Yoder said that the center's evolution research would integrate especially well with the programs of the new National Evolutionary Synthesis Center, a collaboration among Duke, the University of North Carolina at Chapel Hill and N.C. State University, headquartered at Duke.
Yoder also said she seeks to maintain the center's close ties with Duke's Department of Biological Anthropology and Anatomy and to establish closer research and education relationships with other Duke units, such as the Nicholas School of the Environment and Earth Sciences and the Institute for Genome Sciences and Policy (IGSP).
Nicholas School collaborations, for example, could enhance the center's conservation efforts in Madagascar -- including field research, efforts to reintroduce lemurs into protected areas and a project to develop a zoological park at Ivoloina.
"Conservation will continue to be integral to the center's programs, not only because of its innate importance, but because it contributes to the missions of research and education," she said. "Our conservation efforts in Madagascar build goodwill that is essential for the center's long-term goals."
Among those goals, she said, will be to carefully restructure the center's animal colony, emphasizing species that are of the most critical scientific and conservation interest. These include, for example, nocturnal species whose evolution, genetics and behavior remain deep scientific mysteries, she said.
Collaborations with the IGSP's Center for Evolutionary Genomics could significantly enhance genomic studies of the center's animals, Yoder said. Also, the ongoing exploration of lemur behavior and intelligence should offer important insights into primate evolution.
New genomic and other analytical techniques could enable far greater insights into the animals' genetics and physiology, while preserving the center's policy of noninvasive research, Yoder added.
Further enhancement of the center will depend on developing new facilities, she emphasized. In particular, Yoder hopes to lead a program to construct a building for animal care and housing and to oversee renovations of existing buildings to provide state-of-the-art laboratories for researchers.
"A special quality of the Primate Center is its ability to offer behavioral scientists the chance to observe animals that live in natural enclosures," she said. "But in order to meet the requirements of good animal care, we also need to offer the animals warm housing to retreat to in the winter months."
Recalling the center's influence on her own career, Yoder said she sees the center's educational role as a major asset to the university and the region.
"When I was an undergraduate at UNC, I'd always been interested in biology and in animals, but I was rather undirected and not a particularly high-performing student. But when I took a class trip to the Primate Center, it just literally blew my mind! It changed everything. I suddenly had a focus in my studies. I started doing behavioral studies at the center. My grades went up, and it set the tone for the rest of my career."
Yoder received her B.A. in zoology from UNC-Chapel Hill in 1981, and her Ph.D. in anatomy from Duke University Medical Center in 1992. She was a postdoctoral fellow at Harvard University and began her academic career as an assistant professor of cell and molecular biology at Northwestern University Medical School. After being a research associate for the Field Museum of Natural History in Chicago, she joined the faculty of Yale as an associate professor in 2001, as well as serving as associate curator of mammals at Yale's Peabody Museum.
She has been awarded numerous National Science Foundation and L.S.B. Leakey Foundation grants for her research. Those studies have concentrated on the genetics and evolution of mammals, especially lemurs, and on the biodiversity and "biogeography" -- the study of the geographic distribution of species -- of Madagascar.
Yoder and her husband Rob Blankenship have a son Dylan, who is five. She lists her current hobbies as "work and motherhood" and also enjoys hiking, horseback riding and the arts, including music and photography. She considers her move to North Carolina as a "real homecoming, since I grew up in Greensboro and went to UNC and Duke, and my family is here."
Supported by the university, the National Science Foundation and private sources, the Primate Center is the only university-operated facility that concentrates solely on studying and protecting prosimians such as lemurs, lorises and galagoes. Besides its colony of prosimians, the center also has one of the most important and extensive fossil collection of primates and other animals.
###
Links: Duke University Primate Center Anne Yoder Yale laboratory